Ik wil mijn serienummer en productkey weten.
Heeft u vragen over het serienummer en de productkey? Hieronder proberen wij voor u alles zo duidelijk mogelijk te omschrijven. Heeft u hierna nog vragen? Neem gerust contact met ons op.
Serienummer zoeken
Als u bent ingelogd in uw Autodesk Account, zoekt u in de lijst met software (onder 'All Products & Services') de software waar u het serienummer van wilt krijgen. Vóór de naam van de software, is een pijltje te zien op het scherm. Deze pijl wijst naar rechts.
Zodra u op de pijl klikt, zullen de details van deze software te zien zijn. Onder andere serienummer en productkey zijn hier voor u makkelijk te vinden.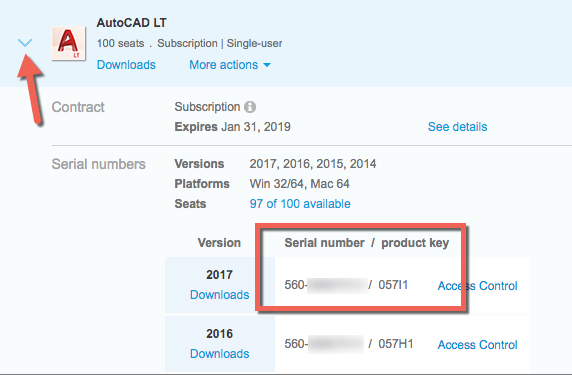 Let op:
Heeft u een onderhoudsplan (Maintenance Contract) dan kunt u hier van vorige versies van de software, ook de serienummers en productkeys vinden.

Heeft u een abonnement (Subscription) dan blijft het serienummer altijd hetzelfde, ongeacht welke versie van de software u wilt gebruiken. Alleen de productkey wijzigt per versie. Hoe u deze kunt vinden, leest u in het volgende hoofdstuk.
Productkey zoeken
Een productkey is makkelijk te vinden via de uitleg in hoofdstuk 1. Maar let goed op dat de productkey van een enkel product verschilt van de productkey van hetzelfde product als deze onderdeel is van een suite of collection.
Bv: de productkey voor een AutoCAD licentie 2016 is 001H1, maar de productkey voor de AutoCAD licentie 2016 als onderdeel van de Product Design Suite Ultimate 2016 is 781H1.

U ziet altijd de productkey van de meest recente versie van uw software.
Wilt u de productkey zoeken van een eerdere versie (2016, 2015 of 2014) dan kunt u in de volgende hoofdstukken deze opzoeken in de lijst, of het linkje naar de Autodesk website gebruiken.

Let op: Voor de Collections heeft u van Autodesk een productkey ontvangen voor de volledige Collection. U dient echter de software uit de Collection per product te downloaden/installeren. Hiervoor heeft u dus per product de productkey nodig.
Algemene link naar alle versies:
https://knowledge.autodesk.com/customer-service/download-install/activate/find-serial-number-product-key/product-key-look
Productkeys 2019
https://knowledge.autodesk.com/customer-service/download-install/activate/find-serial-number-product-key/product-key-look/2019-product-keys

| Product Name | Product Key |
| --- | --- |
| Autodesk 3ds Max 2019 | 128K1 |
| Autodesk 3ds Max 2019 with Softimage | 978K1 |
| Autodesk Advance Steel 2019 | 959K1 |
| Autodesk Alias AutoStudio 2019 | 966K1 |
| Autodesk Alias Concept 2019 | A63K1 |
| Autodesk Alias Design 2019 | 712K1 |
| Autodesk Alias SpeedForm 2019 | A62K1 |
| Autodesk Alias Surface 2019 | 736K1 |
| Autodesk AutoCAD 2019 | 001K1 |
| Autodesk AutoCAD Architecture 2019 | 185K1 |
| Autodesk AutoCAD Design Suite Premium 2019 | 768K1 |
| Autodesk AutoCAD Design Suite Standard 2019 | 767K1 |
| Autodesk AutoCAD Electrical 2019 | 225K1 |
| Autodesk AutoCAD Inventor LT Suite 2019 | 596K1 |
| Autodesk AutoCAD LT 2019 | 057K1 |
| Autodesk AutoCAD LT with CALS Tools 2019 | 545K1 |
| Autodesk AutoCAD Map 3D 2019 | 129K1 |
| Autodesk AutoCAD Mechanical 2019 | 206K1 |
| Autodesk AutoCAD MEP 2019 | 235K1 |
| Autodesk AutoCAD Plant 3D 2019 | 426K1 |
| Autodesk AutoCAD Raster Design 2019 | 340K1 |
| Autodesk AutoCAD Revit LT Suite 2019 | 834K1 |
| Autodesk Building Design Suite Premium 2019 | 765K1 |
| Autodesk Building Design Suite Standard 2019 | 784K1 |
| Autodesk Building Design Suite Ultimate 2019 | 766K1 |
| Autodesk Burn 2019 | C0YK1 |
| Autodesk CFD Design Study Environment 2019 | 812K1 |
| Autodesk CFD Premium 2019 | 810K1 |
| Autodesk CFD Ultimate 2019 | 811K1 |
| Autodesk Civil 3D 2019 | 237K1 |
| Autodesk Fabrication CADmep 2019 | 839K1 |
| Autodesk Fabrication CAMduct 2019 | 842K1 |
| Autodesk Fabrication ESTmep 2019 | 841K1 |
| Autodesk Factory Design Suite Premium 2019 | 757K1 |
| Autodesk Factory Design Suite Standard 2019 | 789K1 |
| Autodesk Factory Design Suite Ultimate 2019 | 760K1 |
| Autodesk Factory Design Utilities 2019 | P03K1 |
| Autodesk FeatureCAM Premium 2019 | A9FK1 |
| Autodesk FeatureCAM Standard 2019 | A9GK1 |
| Autodesk FeatureCAM Ultimate 2019 | A9EK1 |
| Autodesk Flame 2019 | C0TK1 |
| Autodesk Flame 2019 - Education | C14K1 |
| Autodesk Flame Assist 2019 | C0VK1 |
| Autodesk Flame Premium 2019 | C0XK1 |
| Autodesk Flare 2019 | C0WK1 |
| Autodesk Helius PFA 2019 | 899K1 |
| Autodesk HSM Premium 2019 | C12K1 |
| Autodesk HSM Ultimate 2019 | C13K1 |
| Autodesk Infrastructure Design Suite Premium 2019 | 786K1 |
| Autodesk Infrastructure Design Suite Standard 2019 | 787K1 |
| Autodesk Infrastructure Design Suite Ultimate 2019 | 785K1 |
| Autodesk Inventor 2019 | 208K1 |
| Autodesk Inventor Engineer-to-Order 2019 - Developer | A66K1 |
| Autodesk Inventor Engineer-to-Order 2019 - Distribution | 996K1 |
| Autodesk Inventor Engineer-to-Order 2019 - Server | 997K1 |
| Autodesk Inventor Engineer-to-Order Series 2019 | 805K1 |
| Autodesk Inventor Engineer-to-Order Server 2019 | 752K1 |
| Autodesk Inventor HSM Premium 2019 | 969K1 |
| Autodesk Inventor HSM Ultimate 2019 | 970K1 |
| Autodesk Inventor LT 2019 | 529K1 |
| Autodesk Inventor OEM 2019 | 798K1 |
| Autodesk Inventor Professional 2019 | 797K1 |
| Autodesk Lustre 2019 | C0UK1 |
| Autodesk Lustre Burn 2019 | C10K1 |
| Autodesk Lustre ShotReactor 2019 | C11K1 |
| Autodesk Manufacturing Automation Utility 2019 | A9YK1 |
| Autodesk Manufacturing Data Exchange Utility Premium 2019 | A9VK1 |
| Autodesk Manufacturing Data Exchange Utility Standard 2019 | A9XK1 |
| Autodesk Manufacturing Post Processor Utility 2019 | A9TK1 |
| Autodesk MEP Fabrication Suite 2019 | 00QK1 |
| Autodesk Moldflow Adviser Premium 2019 | 571K1 |
| Autodesk Moldflow Adviser Ultimate 2019 | 572K1 |
| Autodesk Moldflow Design 2019 | 837K1 |
| Autodesk Moldflow Insight Premium 2019 | 574K1 |
| Autodesk Moldflow Insight Standard 2019 | 573K1 |
| Autodesk Moldflow Insight Ultimate 2019 | 575K1 |
| Autodesk Moldflow Synergy 2019 | 579K1 |
| Autodesk Nastran 2019 | 986K1 |
| Autodesk Nastran In-CAD 2019 | 987K1 |
| Autodesk Navisworks Manage 2019 | 507K1 |
| Autodesk Navisworks Simulate 2019 | 506K1 |
| Autodesk PartMaker 2019 | A9SK1 |
| Autodesk Plant Design Suite Premium 2019 | 763K1 |
| Autodesk Plant Design Suite Standard 2019 | 788K1 |
| Autodesk Plant Design Suite Ultimate 2019 | 764K1 |
| Autodesk Point Layout 2019 | 925K1 |
| Autodesk PowerInspect Premium 2019 | A9JK1 |
| Autodesk PowerInspect Standard 2017 | A9KI1 |
| Autodesk PowerInspect Standard 2018 | A9KJ1 |
| Autodesk PowerInspect Standard 2019 | A9KK1 |
| Autodesk PowerInspect Ultimate 2019 | A9HK1 |
| Autodesk PowerMill Modeling 2019 | A9UK1 |
| Autodesk PowerMill Premium 2019 | A9AK1 |
| Autodesk PowerMill Standard 2019 | A9QK1 |
| Autodesk PowerMill Ultimate 2019 | A9PK1 |
| Autodesk PowerShape Premium 2019 | A9MK1 |
| Autodesk PowerShape Standard 2019 | A9NK1 |
| Autodesk PowerShape Ultimate 2019 | A9LK1 |
| Autodesk Product Design Suite Premium 2019 | 782K1 |
| Autodesk Product Design Suite Ultimate 2019 | 781K1 |
| Autodesk ReCap Pro | 919K1 |
| Autodesk Revit 2019 | 829K1 |
| Autodesk Revit LT 2019 | 828K1 |
| Autodesk Robot Structural Analysis Professional 2019 | 547K1 |
| Autodesk SketchBook for Enterprise | 871K1 |
| Autodesk TruComp 2019 | 00EK1 |
| Autodesk TruFiber 2019 | 01WK1 |
| Autodesk TruLaser 2019 | 00DK1 |
| Autodesk TruNest 2019 - Nesting Engine | 00FK1 |
| Autodesk TruNest Composites 2019 | 00BK1 |
| Autodesk TruNest Contour 2019 | 00AK1 |
| Autodesk TruNest Multi-Tool 2019 | 00CK1 |
| Autodesk TruPlan 2019 | 01VK1 |
| Autodesk Vault Office 2019 | 555K1 |
| Autodesk Vault Professional 2019 | 569K1 |
| Autodesk Vault Workgroup 2019 | 559K1 |
| Autodesk Vehicle Tracking 2019 | 955K1 |
| Autodesk VRED 2019 | 884K1 |
| Autodesk VRED Design 2019 | 885K1 |
| Autodesk VRED Presenter 2019 | 888K1 |
| Autodesk VRED Professional 2019 | 886K1 |
| Autodesk VRED Render Node - consumption-based license 2019 | A93K1 |
| Autodesk VRED Render Node 2019 | 890K1 |
| Autodesk VRED Server 2019 | 887K1 |
| Autodesk Wiretap Gateway 2019 | C0ZK1 |
| FeatureCAM Premium 2019 | P16K1 |
| FeatureCAM Standard 2019 | P15K1 |
| FeatureCAM Ultimate 2019 | P17K1 |
| HSMWorks Premium 2019 | 873K1 |
| HSMWorks Ultimate 2019 | 872K1 |
| PowerInspect Premium 2019 | P13K1 |
| PowerInspect Standard 2019 | P12K1 |
| PowerInspect Ultimate 2019 | P14K1 |
| PowerMill Premium 2019 | P07K1 |
| PowerMill Standard 2019 | A9ZK1 |
| PowerMill Ultimate 2019 | P08K1 |
| PowerShape Premium 2019 | P10K1 |
| PowerShape Standard 2019 | P09K1 |
| PowerShape Ultimate 2019 | P11K1 |
| T1 Enterprise Multi-flex 2019 | 535K1 |
Productkeys 2018
https://knowledge.autodesk.com/customer-service/download-install/activate/find-serial-number-product-key/product-key-look/2018-product-keys
| Product Name | Product Key |
| --- | --- |
| Autodesk 3DS Max 2018 | 128J1 |
| Autodesk 3ds Max with Softimage 2018 | 978J1 |
| Autodesk Advance Steel 2018 | 959J1 |
| Autodesk Alias AutoStudio 2018 | 966J1 |
| Autodesk Alias Concept 2018 | A63J1 |
| Autodesk Alias Design 2018 | 712J1 |
| Autodesk Alias SpeedForm 2018 | A62J1 |
| Autodesk Alias Surface 2018 | 736J1 |
| Autodesk ArtCAM - Premium 2018 | A9BJ1 |
| Autodesk ArtCAM - Standard 2018 | A9CJ1 |
| Autodesk AutoCAD 2018 | 001J1 |
| Autodesk AutoCAD Architecture 2018 | 185J1 |
| Autodesk AutoCAD Civil 3D 2018 | 237J1 |
| Autodesk AutoCAD Design Suite Premium 2018 | 768J1 |
| Autodesk AutoCAD Design Suite Standard 2018 | 767J1 |
| Autodesk AutoCAD Electrical 2018 | 225J1 |
| Autodesk AutoCAD for Mac 2018 | 777J1 |
| Autodesk AutoCAD Inventor LT Suite 2018 | 596J1 |
| Autodesk AutoCAD LT 2018 | 057J1 |
| Autodesk AutoCAD LT for Mac 2018 | 827J1 |
| Autodesk AutoCAD LT with CALS Tools 2018 | 545J1 |
| Autodesk AutoCAD Map 3D 2018 | 129J1 |
| Autodesk AutoCAD Mechanical 2018 | 206J1 |
| Autodesk AutoCAD MEP 2018 | 235J1 |
| Autodesk AutoCAD OEM 2018 | 140J1 |
| Autodesk AutoCAD Plant 3D 2018 | 426J1 |
| Autodesk AutoCAD Raster Design 2018 | 340J1 |
| Autodesk AutoCAD Revit LT Suite 2018 | 834J1 |
| Autodesk Building Design Suite Premium 2018 | 765J1 |
| Autodesk Building Design Suite Standard 2018 | 784J1 |
| Autodesk Building Design Suite Ultimate 2018 | 766J1 |
| Autodesk CFD 2018 | 809J1 |
| Autodesk CFD Advanced 2018 | 810J1 |
| Autodesk CFD Design Study Environment 2018 | 812J1 |
| Autodesk CFD Motion 2018 | 811J1 |
| Autodesk Dynamo Studio 2018 | A83J1 |
| Autodesk Entertainment Creation Suite Ultimate 2018 | 793J1 |
| Autodesk Fabrication CADmep 2018 | 839J1 |
| Autodesk Fabrication CAMduct 2018 | 842J1 |
| Autodesk Fabrication ESTmep 2018 | 841J1 |
| Autodesk Factory Design Suite Premium 2018 | 757J1 |
| Autodesk Factory Design Suite Standard 2018 | 789J1 |
| Autodesk Factory Design Suite Ultimate 2018 | 760J1 |
| Autodesk Factory Design Utilities 2018 | P03J1 |
| Autodesk FeatureCAM - Premium 2018 | A9FJ1 |
| Autodesk FeatureCAM - Standard 2018 | A9GJ1 |
| Autodesk FeatureCAM - Ultimate 2018 | A9EJ1 |
| Autodesk Flame 2018 | C0TJ1 |
| Autodesk Flame - Education 2018 | C14J1 |
| Autodesk Flame Assist 2018 | C0VJ1 |
| Autodesk Flame Premium 2018 | C0XJ1 |
| Autodesk Flare 2018 | C0WJ1 |
| Autodesk Helius PFA 2018 | 899J1 |
| Autodesk HSM - Premium 2018 | C12J1 |
| Autodesk HSM - Ultimate 2018 | C13J1 |
| Autodesk HSMWorks Premium 2018 | 872J1 |
| Autodesk HSMWorks Professional 2018 | 873J1 |
| Autodesk Infrastructure Design Suite Premium 2018 | 786J1 |
| Autodesk Infrastructure Design Suite Standard 2018 | 787J1 |
| Autodesk Infrastructure Design Suite Ultimate 2018 | 785J1 |
| Autodesk Infrastructure Map Server 2018 | 796J1 |
| Autodesk Infrastructure Map Server 5 Activations 2018 | 877J1 |
| Autodesk InfraWorks 2018 | 927J1 |
| Autodesk Inventor 2018 | 208J1 |
| Autodesk Inventor Engineer-to-Order Series 2018 | 805J1 |
| Autodesk Inventor Engineer-to-Order Series Distribution Fee 2018 | 636J1 |
| Autodesk Inventor Engineer-to-Order Server 2018 | 752J1 |
| Autodesk Inventor ETO - Developer 2018 | A66J1 |
| Autodesk Inventor ETO - Distribution 2018 | 996J1 |
| Autodesk Inventor HSM 2018 | 969J1 |
| Autodesk Inventor HSM Pro 2018 | 970J1 |
| Autodesk Inventor LT 2018 | 529J1 |
| Autodesk Inventor OEM 2018 | 798J1 |
| Autodesk Inventor Professional 2018 | 797J1 |
| Autodesk Live 2018 | 02ZJ1 |
| Autodesk Lustre 2018 | C0UJ1 |
| Autodesk Maya 2018 | 657J1 |
| Autodesk Maya LT 2018 | 923J1 |
| Autodesk MEP Fabrication Suite 2018 | 00QJ1 |
| Autodesk Moldflow Adviser Premium 2018 | 571J1 |
| Autodesk Moldflow Adviser Ultimate 2018 | 572J1 |
| Autodesk Moldflow Insight Premium 2018 | 574J1 |
| Autodesk Moldflow Insight Standard 2018 | 573J1 |
| Autodesk Moldflow Insight Ultimate 2018 | 575J1 |
| Autodesk Moldflow Synergy 2018 | 579J1 |
| Autodesk MotionBuilder 2018 | 727J1 |
| Autodesk Mudbox 2018 | 498J1 |
| Autodesk Nastran 2018 | 986J1 |
| Autodesk Nastran In-CAD 2018 | 987J1 |
| Autodesk Navisworks Manage 2018 | 507J1 |
| Autodesk Navisworks Simulate 2018 | 506J1 |
| Autodesk Plant Design Suite Premium 2018 | 763J1 |
| Autodesk Plant Design Suite Standard 2018 | 788J1 |
| Autodesk Plant Design Suite Ultimate 2018 | 764J1 |
| Autodesk Point Layout 2018 | 925J1 |
| Autodesk PowerInspect - Premium 2018 | A9JJ1 |
| Autodesk PowerInspect - Standard 2018 | A9KJ1 |
| Autodesk PowerInspect - Ultimate 2018 | A9HJ1 |
| Autodesk PowerMill - Premium 2018 | A9AJ1 |
| Autodesk PowerMill - Standard 2018 | A9QJ1 |
| Autodesk PowerMill - Ultimate 2018 | A9PJ1 |
| Autodesk PowerShape - Premium 2018 | A9MJ1 |
| Autodesk PowerShape - Standard 2018 | A9NJ1 |
| Autodesk PowerShape - Ultimate 2018 | A9LJ1 |
| Autodesk Product Design Suite Premium 2018 | 782J1 |
| Autodesk Product Design Suite Ultimate 2018 | 781J1 |
| Autodesk ReCap Pro 2018 | 919J1 |
| Autodesk Revit 2018 | 829J1 |
| Autodesk Revit LT 2018 | 828J1 |
| Autodesk Robot Structural Analysis Professional 2018 | 547J1 |
| Autodesk Simulation Mechanical 2018 | 669J1 |
| Autodesk SketchBook for Enterprise 2018 | 871J1 |
| Autodesk Smoke - desktop subscription 2018 | 982J1 |
| Autodesk Stingray 2018 | A72J1 |
| Autodesk Structural Bridge Design 2018 | 954J1 |
| Autodesk Structural Fabrication Suite 2018 | 00RJ1 |
| Autodesk TruComp 2018 | 00EJ1 |
| Autodesk TruFiber 2018 | 01WJ1 |
| Autodesk TruLaser 2018 | 00DJ1 |
| Autodesk TruNest Composites 2018 | 00BJ1 |
| Autodesk TruNest Contour 2018 | 00AJ1 |
| Autodesk TruNest Multi-Tool 2018 | 00CJ1 |
| Autodesk TruPlan 2018 | 01VJ1 |
| Autodesk Vault Office 2018 | 555J1 |
| Autodesk Vault Professional 2018 | 569J1 |
| Autodesk Vault Workgroup 2018 | 559J1 |
| Autodesk Vehicle Tracking 2018 | 955J1 |
| Autodesk VRED 2018 | 884J1 |
| Autodesk VRED Design 2018 | 885J1 |
| Autodesk VRED Presenter 2018 | 888J1 |
| Autodesk VRED Professional 2018 | 886J1 |
| Autodesk VRED Render Node 2018 | 890J1 |
| Autodesk VRED Server 2018 | 887J1 |
| CADdoctor for Autodesk Simulation 2018 | 577J1 |
| Enterprise Add-on for Autodesk Vault 2018 | 838J1 |
| RealDWG 2018 | 151J1 |
Productkeys 2017
https://knowledge.autodesk.com/customer-service/download-install/activate/find-serial-number-product-key/product-key-look/2017-product-keys
| Product Name | Product Key |
| --- | --- |
| Autodesk 3ds Max 2017 | 128I1 |
| Autodesk 3ds Max 2017 with SoftImage | 978I1 |
| Autodesk 3ds Max Entertainment Creation Suite Standard 2017 | 661I1 |
| Autodesk Advance Concrete 2017 | 960I1 |
| Autodesk Advance Steel 2017 | 959I1 |
| Autodesk Advance Steel 2017 with AutoCAD | 958I1 |
| Autodesk Alias AutoStudio 2017 | 966I1 |
| Autodesk Alias Concept 2017 | A63I1 |
| Autodesk Alias Design 2017 | 712I1 |
| Autodesk Alias SpeedForm 2017 | A62I1 |
| Autodesk Alias Surface 2017 | 736I1 |
| Autodesk Alias TC Integrator for GM 2017 | 770I1 |
| Autodesk Architecture Engineering and Construction Suite 2017 | 00TI1 |
| Autodesk AutoCAD 2017 | 001I1 |
| Autodesk AutoCAD Architecture 2017 | 185I1 |
| Autodesk AutoCAD Civil 3D 2017 | 237I1 |
| Autodesk AutoCAD Design Suite Premium 2017 | 768I1 |
| Autodesk AutoCAD Design Suite Standard 2017 | 767I1 |
| Autodesk AutoCAD Design Suite Ultimate 2017 | 769I1 |
| Autodesk AutoCAD Electrical 2017 | 225I1 |
| Autodesk AutoCAD Inventor LT Suite 2017 | 596I1 |
| Autodesk AutoCAD LT 2017 | 057I1 |
| Autodesk AutoCAD LT Civil Suite 2017 | 545I1 |
| Autodesk AutoCAD Map 3D 2017 | 129I1 |
| Autodesk AutoCAD Mechanical 2017 | 206I1 |
| Autodesk AutoCAD MEP 2017 | 235I1 |
| Autodesk AutoCAD P&ID 2017 | 448I1 |
| Autodesk AutoCAD Plant 3D 2017 | 426I1 |
| Autodesk AutoCAD Raster Design 2017 | 340I1 |
| Autodesk AutoCAD Revit LT Suite 2017 | 834I1 |
| Autodesk AutoCAD Utility Design 2017 | 213I1 |
| Autodesk Building Design Suite Premium 2017 | 765I1 |
| Autodesk Building Design Suite Standard 2017 | 784I1 |
| Autodesk Building Design Suite Ultimate 2017 | 766I1 |
| Autodesk CFD 2017 | 809I1 |
| Autodesk CFD 2017 Advanced | 810I1 |
| Autodesk CFD 2017 Design Study Environment | 812I1 |
| Autodesk CFD 2017 Motion | 811I1 |
| Autodesk Entertainment Creation Suite Ultimate 2017 | 793I1 |
| Autodesk Fabrication CADmep 2017 | 839I1 |
| Autodesk Fabrication CAMduct 2017 | 842I1 |
| Autodesk Fabrication ESTmep 2017 | 841I1 |
| Autodesk Factory Design Suite Premium 2017 | 757I1 |
| Autodesk Factory Design Suite Standard 2017 | 789I1 |
| Autodesk Factory Design Suite Ultimate 2017 | 760I1 |
| Autodesk Factory Design Utilities 2017 | P03I1 |
| Autodesk GM CAD Convertors 2017 | 771I1 |
| Autodesk Helius Composite 2017 | 918I1 |
| Autodesk Helius PFA 2017 | 899I1 |
| Autodesk Infrastructure Design Suite Premium 2017 | 786I1 |
| Autodesk Infrastructure Design Suite Standard 2017 | 787I1 |
| Autodesk Infrastructure Design Suite Ultimate 2017 | 785I1 |
| Autodesk Infrastructure Map Server 2017 | 796I1 |
| Autodesk Infrastructure Map Server 5 Activations 2017 | 877I1 |
| Autodesk InfraWorks 360 - Design Bundle Plus | A92I1 |
| Autodesk InfraWorks 360 2017 | 927I1 |
| Autodesk Inventor 2017 | 208I1 |
| Autodesk Inventor Engineer-to-Order 2017 - Developer | A66I1 |
| Autodesk Inventor Engineer-to-Order 2017 - Distribution | 996I1 |
| Autodesk Inventor Engineer-to-Order 2017 - Server | 997I1 |
| Autodesk Inventor Engineer-to-Order Series 2017 | 805I1 |
| Autodesk Inventor Engineer-to-Order Server 2017 | 752I1 |
| Autodesk Inventor HSM 2017 | 969I1 |
| Autodesk Inventor HSM Pro 2017 | 970I1 |
| Autodesk Inventor LT 2017 | 529I1 |
| Autodesk Inventor OEM 2017 | 798I1 |
| Autodesk Inventor Professional 2017 | 797I1 |
| Autodesk LIVE 2017 | 02ZI1 |
| Autodesk Maya 2017 | 657I1 |
| Autodesk Maya Entertainment Creation Suite Standard 2017 | 660I1 |
| Autodesk Maya LT 2017 | 923I1 |
| Autodesk Maya 2017 with Softimage | 977I1 |
| Autodesk Media and Entertainment Suite 2017 | 00VI1 |
| Autodesk Memento | 01RI1 |
| Autodesk MEP Fabrication Suite 2017 | 00QI1 |
| Autodesk Moldflow Adviser Premium 2017 | 571I1 |
| Autodesk Moldflow Adviser Standard 2017 | 570I1 |
| Autodesk Moldflow Adviser Ultimate 2017 | 572I1 |
| Autodesk Moldflow Design 2017 | 837I1 |
| Autodesk Moldflow Insight Premium 2017 | 574I1 |
| Autodesk Moldflow Insight Standard 2017 | 573I1 |
| Autodesk Moldflow Insight Ultimate 2017 | 575I1 |
| Autodesk Moldflow Synergy 2017 | 579I1 |
| Autodesk Nastran 2017 | 986I1 |
| Autodesk Nastran In-CAD 2017 | 987I1 |
| Autodesk Navisworks Manage 2017 | 507I1 |
| Autodesk Navisworks Simulate 2017 | 506I1 |
| Autodesk Plant Design Suite Premium 2017 | 763I1 |
| Autodesk Plant Design Suite Standard 2017 | 788I1 |
| Autodesk Plant Design Suite Ultimate 2017 | 764I1 |
| Autodesk Point Layout 2017 | 925I1 |
| Autodesk Product Design Suite Premium 2017 | 782I1 |
| Autodesk Product Design Suite Ultimate 2017 | 781I1 |
| Autodesk ReCap 360 Pro | 919I1 |
| Autodesk Revit 2017 | 829I1 |
| Autodesk Revit Collaboration Suite 2017 | A78I1 |
| Autodesk Revit LT 2017 | 828I1 |
| Autodesk Robot Structural Analysis Professional 2017 | 547I1 |
| Autodesk Showcase 2017 | 262I1 |
| Autodesk SimStudio Tools 2016 R2 | Z23I1 |
| Autodesk Simulation Mechanical 2017 | 669I1 |
| Autodesk Structural Bridge Design 2017 | 954I1 |
| Autodesk Structural Fabrication Suite 2017 | 00RI1 |
| Autodesk Studio Wall 2017 | 992I1 |
| Autodesk TruComp 2017 | 00EI1 |
| Autodesk TruLaser 2017 | 00DI1 |
| Autodesk TruNest 2017 - Nesting Engine | 00FI1 |
| Autodesk TruNest Composites 2017 | 00BI1 |
| Autodesk TruNest Contour 2017 | 00AI1 |
| Autodesk TruNest Multi-Tool 2017 | 00CI1 |
| Autodesk TruPlan 2017 | 01VI1 |
| Autodesk Vault Office 2017 | 555I1 |
| Autodesk Vault Professional 2017 | 569I1 |
| Autodesk Vault Workgroup 2017 | 559I1 |
Productkeys 2016
https://knowledge.autodesk.com/customer-service/download-install/activate/find-serial-number-product-key/product-key-look/2016-product-keys
| Product Name | Product Key |
| --- | --- |
| Autodesk 3ds Max 2016 | 128H1 |
| Autodesk 3ds Max Entertainment Creation Suite Standard 2016 | 661H1 |
| Autodesk 3ds Max with Softimage 2016 | 978H1 |
| Autodesk Advance Concrete 2016 | 960H1 |
| Autodesk Advance Steel 2016 | 959H1 |
| Autodesk Alias AutoStudio 2016 | 966H1 |
| Autodesk Alias Concept 2016 | A63H1 |
| Autodesk Alias Design 2016 | 712H1 |
| Autodesk Alias SpeedForm 2016 | A62H1 |
| Autodesk Alias Surface 2016 | 736H1 |
| Autodesk AutoCAD 2016 | 001H1 |
| Autodesk AutoCAD Architecture 2016 | 185H1 |
| Autodesk AutoCAD Civil 3D 2016 | 237H1 |
| Autodesk AutoCAD Design Suite Premium 2016 | 768H1 |
| Autodesk AutoCAD Design Suite Standard 2016 | 767H1 |
| Autodesk AutoCAD Design Suite Ultimate 2016 | 769H1 |
| Autodesk AutoCAD Electrical 2016 | 225H1 |
| Autodesk AutoCAD for Mac 2016 | 777H1 |
| Autodesk AutoCAD Inventor LT Suite 2016 | 596H1 |
| Autodesk AutoCAD LT 2016 | 057H1 |
| Autodesk AutoCAD LT Civil Suite 2016 | 545H1 |
| Autodesk AutoCAD LT for Mac 2016 | 827H1 |
| Autodesk AutoCAD Map 3D 2016 | 129H1 |
| Autodesk AutoCAD Mechanical 2016 | 206H1 |
| Autodesk AutoCAD MEP 2016 | 235H1 |
| Autodesk AutoCAD OEM 2016 | 140H1 |
| Autodesk AutoCAD P&ID 2016 | 448H1 |
| Autodesk AutoCAD Plant 3D 2016 | 426H1 |
| Autodesk AutoCAD Raster Design 2016 | 340H1 |
| Autodesk AutoCAD Revit Collaboration Suite 2016 | A78H1 |
| Autodesk AutoCAD Revit LT Suite 2016 | 834H1 |
| Autodesk AutoCAD Utility Design 2016 | 213H1 |
| Autodesk AutoCAD with Advance Steel 2016 | 958H1 |
| Autodesk Bridge Design for InfraWorks 360 2016 | 956H1 |
| Autodesk Building Design Suite Premium 2016 | 765H1 |
| Autodesk Building Design Suite Standard 2016 | 784H1 |
| Autodesk Building Design Suite Ultimate 2016 | 766H1 |
| Autodesk CFD 2016 | 809H1 |
| Autodesk CFD Advanced 2016 | 810H1 |
| Autodesk CFD Connection for NX 2016 | 815H1 |
| Autodesk CFD Connection for Parasolid 2016 | 824H1 |
| Autodesk CFD Connection for Pro/ENGINEER 2016 | 822H1 |
| Autodesk CFD Design Study Environment 2016 | 812H1 |
| Autodesk CFD Flex 2016 | A73H1 |
| Autodesk CFD Motion 2016 | 811H1 |
| Autodesk Drainage Design for InfraWorks 360 2016 | 984H1 |
| Autodesk Entertainment Creation Suite Ultimate 2016 | 793H1 |
| Autodesk Fabrication CADmep 2016 | 839H1 |
| Autodesk Fabrication CAMduct 2016 | 842H1 |
| Autodesk Fabrication ESTmep 2016 | 841H1 |
| Autodesk Factory Design Suite Premium 2016 | 757H1 |
| Autodesk Factory Design Suite Standard 2016 | 789H1 |
| Autodesk Factory Design Suite Ultimate 2016 | 760H1 |
| Autodesk Geotechnical Module 2016 | 973H1 |
| Autodesk Helius Composite 2016 | 918H1 |
| Autodesk Helius PFA 2016 | 899H1 |
| Autodesk HSMWorks Premium 2016 | 872H1 |
| Autodesk HSMWorks Professional 2016 | 873H1 |
| Autodesk Infrastructure Design Suite Premium 2016 | 786H1 |
| Autodesk Infrastructure Design Suite Standard 2016 | 787H1 |
| Autodesk Infrastructure Design Suite Ultimate 2016 | 785H1 |
| Autodesk InfraWorks 360 - companion 2016 | 976H1 |
| Autodesk InfraWorks 360 2016 | 927H1 |
| Autodesk InfraWorks 360 LT 2016 | A77H1 |
| Autodesk Inventor 2016 | 208H1 |
| Autodesk Inventor Engineer-to-Order Series 2016 | 805H1 |
| Autodesk Inventor Engineer-to-Order Series Distribution Fee 2016 | 636H1 |
| Autodesk Inventor Engineer-to-Order Server 2016 | 752H1 |
| Autodesk Inventor ETO - Developer 2016 | A66H1 |
| Autodesk Inventor ETO - Distribution 2016 | 996H1 |
| Autodesk Inventor ETO - Server 2016 | 997H1 |
| Autodesk Inventor HSM 2016 | 969H1 |
| Autodesk Inventor HSM Pro 2016 | 970H1 |
| Autodesk Inventor LT 2016 | 529H1 |
| Autodesk Inventor OEM 2016 | 798H1 |
| Autodesk Inventor Professional 2016 | 797H1 |
| Autodesk Inventor Publisher 2016 | 666H1 |
| Autodesk Maya 2016 | 657H1 |
| Autodesk Maya Entertainment Creation Suite Standard 2016 | 660H1 |
| Autodesk Maya LT 2016 | 923H1 |
| Autodesk Maya with Softimage 2016 | 977H1 |
| Autodesk Moldflow Adviser Premium 2016 | 571H1 |
| Autodesk Moldflow Adviser Standard 2016 | 570H1 |
| Autodesk Moldflow Adviser Ultimate 2016 | 572H1 |
| Autodesk Moldflow Design 2016 | 837H1 |
| Autodesk Moldflow Flex 2016 | A75H1 |
| Autodesk Moldflow Insight Premium 2016 | 574H1 |
| Autodesk Moldflow Insight Standard 2016 | 573H1 |
| Autodesk Moldflow Insight Ultimate 2016 | 575H1 |
| Autodesk Moldflow Synergy 2016 | 579H1 |
| Autodesk MotionBuilder 2016 | 727H1 |
| Autodesk Mudbox 2016 | 498H1 |
| Autodesk Nastran 2016 | 986H1 |
| Autodesk Nastran In-CAD 2016 | 987H1 |
| Autodesk Navisworks Manage 2016 | 507H1 |
| Autodesk Navisworks Simulate 2016 | 506H1 |
| Autodesk Plant Design Suite Premium 2016 | 763H1 |
| Autodesk Plant Design Suite Standard 2016 | 788H1 |
| Autodesk Plant Design Suite Ultimate 2016 | 764H1 |
| Autodesk Product Design Suite Premium 2016 | 782H1 |
| Autodesk Product Design Suite Ultimate 2016 | 781H1 |
| Autodesk ReCap 360 2016 | 964H1 |
| Autodesk ReCap 360 Ultimate 2016 | 919H1 |
| Autodesk Revit 2016 | 829H1 |
| Autodesk Revit Architecture 2016 | 240H1 |
| Autodesk Revit ETO - Developer 2016 | A69H1 |
| Autodesk Revit ETO - Distribution Package 2016 | A67H1 |
| Autodesk Revit ETO – Distribution 2016 | A68H1 |
| Autodesk Revit LT 2016 | 828H1 |
| Autodesk Revit MEP 2016 | 589H1 |
| Autodesk Revit Structure 2016 | 255H1 |
| Autodesk River and Flood Analysis Module 2016 | 972H1 |
| Autodesk Roadway Design for InfraWorks 360 2016 | 953H1 |
| Autodesk Robot Structural Analysis Professional 2016 | 547H1 |
| Autodesk Showcase 2016 | 262H1 |
| Autodesk Simulation Flex 2016 | 893H1 |
| Autodesk Simulation Mechanical 2016 | 669H1 |
| Autodesk Simulation Mechanical Flex 2016 | A74H1 |
| Autodesk Simulation Moldflow Flex 2016 | 892H1 |
| Autodesk SketchBook Pro for Enterprise 2016 | 871H1 |
| Autodesk Softimage Entertainment Creation Suite 2016 | 662H1 |
| Autodesk Stingray 2016 | A72H1 |
| Autodesk Studio Wall 2016 | 992H1 |
| Autodesk Urban Canvas 2016 | A79H1 |
| Autodesk Vault Basic 2016 | 463H1 |
| Autodesk Vault Office 2016 | 555H1 |
| Autodesk Vault Professional 2016 | 569H1 |
| Autodesk Vault Workgroup 2016 | 559H1 |
| Autodesk Vehicle Tracking 2016 | 955H1 |
| Autodesk VRED 2016 | 884H1 |
| Autodesk VRED Design 2016 | 885H1 |
| Autodesk VRED Extension for PROSTEP OpenPDM 2016 | A64H1 |
| Autodesk VRED Presenter 2016 | 888H1 |
| Autodesk VRED Professional 2016 | 886H1 |
| Autodesk VRED Render Node 2016 | 890H1 |
| Autodesk VRED Server 2016 | 887H1 |
| CADdoctor for Autodesk Simulation 2016 | 577H1 |
| Enterprise Multi-Flex Enhanced Bundle 2016 | 980H1 |
| Enterprise Token Flex 2016 | 535H1 |
| mental ray Standalone 2016 | 718H1 |
| RealDWG 2016 | 151H1 |
| T1 Enterprise Multi-flex 2016 | 535H1 |
| T1 Enterprise Multi-Flex Standard Bundle 2016 | 891H1 |
Productkeys 2015
https://knowledge.autodesk.com/customer-service/download-install/activate/find-serial-number-product-key/product-key-look/2015-product-keys
| | |
| --- | --- |
| Product Name | Product Key |
| Autodesk 3ds Max 2015 | 128G1 |
| Autodesk 3ds Max Design 2015 | 495G1 |
| Autodesk 3ds Max Entertainment Creation Suite Premium 2015 | 774G1 |
| Autodesk 3ds Max Entertainment Creation Suite Standard 2015 | 661G1 |
| Autodesk 3ds Max with SoftImage 2015 | 978G1 |
| Autodesk Advance Concrete 2015 | 960G1 |
| Autodesk Advance Concrete 2015.1 | 960G2 |
| Autodesk Advance Steel 2015 | 959G1 |
| Autodesk Advance Steel 2015.1 | 959G2 |
| Autodesk Advance Steel 2015 with AutoCAD | 958G1 |
| Autodesk Advance Steel 2015.1 with AutoCAD | 958G2 |
| Autodesk Alias Automotive 2015 | 710G1 |
| Autodesk Alias AutoStudio 2015 | 966G1 |
| Autodesk Alias Design 2015 | 712G1 |
| Autodesk Alias Surface 2015 | 736G1 |
| Autodesk AutoCAD 2015 | 001G1 |
| Autodesk AutoCAD Architecture 2015 | 185G1 |
| Autodesk AutoCAD Civil 3D 2015 | 237G1 |
| Autodesk AutoCAD Design Suite Premium 2015 | 768G1 |
| Autodesk AutoCAD Design Suite Standard 2015 | 767G1 |
| Autodesk AutoCAD Design Suite Ultimate 2015 | 769G1 |
| Autodesk AutoCAD Electrical 2015 | 225G1 |
| Autodesk AutoCAD for Mac 2015 | 777G1 |
| Autodesk AutoCAD Inventor LT Suite 2015 | 596G1 |
| Autodesk AutoCAD LT 2015 | 057G1 |
| Autodesk AutoCAD LT Civil Suite 2015 | 545G1 |
| Autodesk AutoCAD LT for Mac 2015 | 827G1 |
| Autodesk AutoCAD Map 3D 2015 | 129G1 |
| Autodesk AutoCAD Mechanical 2015 | 206G1 |
| Autodesk AutoCAD MEP 2015 | 235G1 |
| Autodesk AutoCAD OEM 2015 | 140G1 |
| Autodesk AutoCAD P&ID 2015 | 448G1 |
| Autodesk AutoCAD Plant 3D 2015 | 426G1 |
| Autodesk AutoCAD Raster Design 2015 | 340G1 |
| Autodesk AutoCAD Revit LT Suite 2015 | 834G1 |
| Autodesk AutoCAD Structural Detailing 2015 | 587G1 |
| Autodesk AutoCAD Utility Design 2015 | 213G1 |
| Autodesk Bridge Module 2015 | 974G1 |
| Autodesk Building Design Suite Premium 2015 | 765G1 |
| Autodesk Building Design Suite Standard 2015 | 784G1 |
| Autodesk Building Design Suite Ultimate 2015 | 766G1 |
| Autodesk Display Cluster Module for Autodesk VRED Design 2015 | 889G1 |
| Autodesk Education Master Suite 2015 | 651G1 |
| Autodesk Enterprise Token Flex | 535G1 |
| Autodesk Entertainment Creation Suite For Education 2015 | 656G1 |
| Autodesk Entertainment Creation Suite Ultimate 2015 | 793G1 |
| Autodesk Fabrication CADmep 2015 | 839G1 |
| Autodesk Fabrication CAMduct 2015 | 842G1 |
| Autodesk Fabrication CAMduct Components 2015 | 844G1 |
| Autodesk Fabrication ESTmep 2015 | 841G1 |
| Autodesk Fabrication RemoteEntry 2015 | 845G1 |
| Autodesk Fabrication Tracker 2015 | 843G1 |
| Autodesk Factory Design Suite Premium 2015 | 757G1 |
| Autodesk Factory Design Suite Standard 2015 | 789G1 |
| Autodesk Factory Design Suite Ultimate 2015 | 760G1 |
| Autodesk Geotechnical Module 2015 | 973G1 |
| Autodesk HSMWorks Premium 2015 | 872G1 |
| Autodesk HSMWorks Professional 2015 | 873G1 |
| Autodesk Infrastructure Design Suite Premium 2015 | 786G1 |
| Autodesk Infrastructure Design Suite Standard 2015 | 787G1 |
| Autodesk Infrastructure Design Suite Ultimate 2015 | 785G1 |
| Autodesk Infrastructure Map Server 2015 | 796G1 |
| Autodesk Infrastructure Map Server 5 Activations 2015 | 877G1 |
| Autodesk InfraWorks 2015 | 808G1 |
| Autodesk InfraWorks 360 - companion 2015 | 976G1 |
| Autodesk InfraWorks 360 2015 | 927G1 |
| Autodesk Inventor 2015 | 208G1 |
| Autodesk Inventor Engineer-to-Order Series 2015 | 805G1 |
| Autodesk Inventor Engineer-to-Order Server 2015 | 752G1 |
| Autodesk Inventor HSM 2015 | 969G1 |
| Autodesk Inventor LT 2015 | 529G1 |
| Autodesk Inventor OEM 2015 | 798G1 |
| Autodesk Inventor Professional 2015 | 797G1 |
| Autodesk Inventor Publisher 2015 | 666G1 |
| Autodesk Maya 2015 | 657G1 |
| Autodesk Maya Entertainment Creation Suite Standard 2015 | 660G1 |
| Autodesk Maya LT 2015 | 923G1 |
| Autodesk Maya with SoftImage 2015 | 977G1 |
| Autodesk MotionBuilder 2015 | 727G1 |
| Autodesk Mudbox 2015 | 498G1 |
| Autodesk Navisworks Manage 2015 | 507G1 |
| Autodesk Navisworks Simulate 2015 | 506G1 |
| Autodesk Plant Design Suite Premium 2015 | 763G1 |
| Autodesk Plant Design Suite Standard 2015 | 788G1 |
| Autodesk Plant Design Suite Ultimate 2015 | 764G1 |
| Autodesk Point Layout 2015 | 925G1 |
| Autodesk Product Design Suite for Education 2015 | 654G1 |
| Autodesk Product Design Suite Premium 2015 | 782G1 |
| Autodesk Product Design Suite Standard 2015 | 783G1 |
| Autodesk Product Design Suite Ultimate 2015 | 781G1 |
| Autodesk ReCap 2015 | 919G1 |
| Autodesk Revit 2015 | 829G1 |
| Autodesk Revit Architecture 2015 | 240G1 |
| Autodesk Revit LT 2015 | 828G1 |
| Autodesk Revit MEP 2015 | 589G1 |
| Autodesk Revit Structure 2015 | 255G1 |
| Autodesk River and Flood Analysis Module 2015 | 972G1 |
| Autodesk Robot Structural Analysis Professional 2015 | 547G1 |
| Autodesk Showcase 2015 | 262G1 |
| Autodesk Simulation CFD 2015 | 809G1 |
| Autodesk Simulation CFD 2015 Advanced | 810G1 |
| Autodesk Simulation CFD 2015 Connection for NX | 815G1 |
| Autodesk Simulation CFD 2015 Connection for Parasolid | 824G1 |
| Autodesk Simulation CFD 2015 Connection for Pro/E | 822G1 |
| Autodesk Simulation CFD 2015 Design Study Environment | 812G1 |
| Autodesk Simulation CFD 2015 Motion | 811G1 |
| Autodesk Simulation Composite Analysis 2015 | 899G1 |
| Autodesk Simulation Composite Design 2015 | 918G1 |
| Autodesk Simulation DFM 2015 | 837G1 |
| Autodesk Simulation Mechanical 2015 | 669G1 |
| Autodesk Simulation Moldflow Adviser Premium 2015 | 571G1 |
| Autodesk Simulation Moldflow Adviser Standard 2015 | 570G1 |
| Autodesk Simulation Moldflow Adviser Ultimate 2015 | 572G1 |
| Autodesk Simulation Moldflow Insight Premium 2015 | 574G1 |
| Autodesk Simulation Moldflow Insight Premium 2015 | 574G1 |
| Autodesk Simulation Moldflow Insight Standard 2015 | 573G1 |
| Autodesk Simulation Moldflow Insight Ultimate 2015 | 575G1 |
| Autodesk Simulation Moldflow Synergy 2015 | 579G1 |
| Autodesk SketchBook Designer 2015 | 741G1 |
| Autodesk SketchBook Pro 2015 | 871G1 |
| Autodesk Smoke 2015 for Mac OS X | 776G1 |
| Autodesk Softimage 2015 | 590G1 |
| Autodesk Softimage Entertainment Creation Suite Standard 2015 | 662G1 |
| Autodesk Vault Collaboration 2015 | 549G1 |
| Autodesk Vault Collaboration AEC 2015 | 801G1 |
| Autodesk Vault Office 2015 | 555G1 |
| Autodesk Vault Professional 2015 | 569G1 |
| Autodesk Vault Workgroup 2015 | 559G1 |
| Autodesk Vehicle Tracking 2015 | 955G1 |
| Autodesk VRED 2015 | 884G1 |
| Autodesk VRED Design 2015 | 885G1 |
| Autodesk VRED Presenter 2015 | 888G1 |
| Autodesk VRED Professional 2015 | 886G1 |
| Autodesk VRED Server 2015 | 887G1 |
| CADdoctor for Autodesk Simulation 2015 | 577G1 |
| Enterprise Multi-Flex Enhanced Bundle 2015 | 535G1 |
| mental ray Standalone 2015 | 718G1 |
| T1 Enterprise Multi-flex 2015 | 535G1 |
| T1 Enterprise Multi-flex Prior Version 2015 | 535G1 |
| T1 Enterprise Multi-flex Standard Bundle 2015 | 535G1 |
| T1 Enterprise Multi-Flex Standard Prior Version Bundle 2015 | 535G1 |
Productkeys 2014
https://knowledge.autodesk.com/customer-service/download-install/activate/find-serial-number-product-key/product-key-look/2014-product-keys
| | |
| --- | --- |
| Product Name | Product Key |
| AutoCAD 2014 | 001F1 |
| AutoCAD Architecture 2014 | 185F1 |
| AutoCAD Civil 3D 2014 | 237F1 |
| AutoCAD Design Suite Premium 2014 | 768F1 |
| AutoCAD Design Suite Standard 2014 | 767F1 |
| AutoCAD Design Suite Ultimate 2014 | 769F1 |
| AutoCAD ecscad 2014 | 562F1 |
| AutoCAD ecscad 2014 R2 | 562F2 |
| AutoCAD Electrical 2014 | 225F1 |
| AutoCAD for Mac 2014 | 777F1 |
| AutoCAD Inventor LT Suite 2014 | 596F1 |
| AutoCAD LT 2014 | 057F1 |
| AutoCAD LT Civil Suite 2014 | 545F1 |
| AutoCAD LT for Mac 2014 | 827F1 |
| AutoCAD Map 3D 2014 | 129F1 |
| AutoCAD Mechanical 2014 | 206F1 |
| AutoCAD MEP 2014 | 235F1 |
| AutoCAD P&ID 2014 | 448F1 |
| AutoCAD Plant 3D 2014 | 426F1 |
| AutoCAD Raster Design 2014 | 340F1 |
| AutoCAD Revit Architecture Suite 2014 | 241F1 |
| AutoCAD Revit LT Suite 2014 | 834F1 |
| AutoCAD Revit MEP Suite 2014 | 257F1 |
| AutoCAD Revit Structure Suite 2014 | 256F1 |
| AutoCAD Structural Detailing 2014 | 587F1 |
| Autodesk 3ds Max 2014 | 128F1 |
| Autodesk 3ds Max Design 2014 | 495F1 |
| Autodesk 3ds Max Entertainment Creation Suite Premium 2014 | 774F1 |
| Autodesk 3ds Max Entertainment Creation Suite Standard 2014 | 661F1 |
| Autodesk Alias Automotive 2014 | 710F1 |
| Autodesk Alias Design 2014 | 712F1 |
| Autodesk Alias Surface 2014 | 736F1 |
| Autodesk Animation Academy 2014 | 548F1 |
| Autodesk AutoCAD Utility Design 2014 | 213F1 |
| Autodesk Building Design Suite Premium 2014 | 765F1 |
| Autodesk Building Design Suite Standard 2014 | 784F1 |
| Autodesk Building Design Suite Ultimate 2014 | 766F1 |
| Autodesk Design Academy 2014 | 200F1 |
| Autodesk Display Cluster Module for Autodesk VRED Design 2014 | 889F1 |
| Autodesk Education Master Suite 2014 | 651F1 |
| Autodesk Entertainment Creation Suite For Education 2014 | 656F1 |
| Autodesk Entertainment Creation Suite Premium 2014 Exclusives | P02F1 |
| Autodesk Entertainment Creation Suite Standard 2014 Exclusives | P01F1 |
| Autodesk Entertainment Creation Suite Ultimate 2014 | 793F1 |
| Autodesk Fabrication CADmep 2014 | 839F1 |
| Autodesk Fabrication CAMduct 2014 | 842F1 |
| Autodesk Fabrication CAMduct Components 2014 | 844F1 |
| Autodesk Fabrication ESTmep 2014 | 841F1 |
| Autodesk Fabrication RemoteEntry 2014 | 845F1 |
| Autodesk Fabrication Tracker 2014 | 843F1 |
| Autodesk Factory Design Suite Premium 2014 | 757F1 |
| Autodesk Factory Design Suite Standard 2014 | 789F1 |
| Autodesk Factory Design Suite Ultimate 2014 | 760F1 |
| Autodesk Infrastructure Design Suite Premium 2014 | 786F1 |
| Autodesk Infrastructure Design Suite Standard 2014 | 787F1 |
| Autodesk Infrastructure Design Suite Ultimate 2014 | 785F1 |
| Autodesk Infrastructure Map Server 2014 | 796F1 |
| Autodesk Infrastructure Map Server 5 Activations 2014 | 877F1 |
| Autodesk InfraWorks 2014 | 808F1 |
| Autodesk Inventor 2014 | 208F1 |
| Autodesk Inventor Engineer-to-Order Series 2014 | 805F1 |
| Autodesk Inventor Engineer-to-Order Server 2014 | 752F1 |
| Autodesk Inventor LT 2014 | 529F1 |
| Autodesk Inventor Professional 2014 | 797F1 |
| Autodesk Maya 2014 | 657F1 |
| Autodesk Maya Entertainment Creation Suite Premium 2014 | 775F1 |
| Autodesk Maya Entertainment Creation Suite Standard 2014 | 660F1 |
| Autodesk Maya LT 2014 | 923F1 |
| Autodesk MotionBuilder 2014 | 727F1 |
| Autodesk Mudbox 2014 | 498F1 |
| Autodesk Navisworks Manage 2014 | 507F1 |
| Autodesk Navisworks Simulate 2014 | 506F1 |
| Autodesk Plant Design Suite Premium 2014 | 763F1 |
| Autodesk Plant Design Suite Standard 2014 | 788F1 |
| Autodesk Plant Design Suite Ultimate 2014 | 764F1 |
| Autodesk Product Design Suite for Education 2014 | 654F1 |
| Autodesk Product Design Suite Premium 2014 | 782F1 |
| Autodesk Product Design Suite Standard 2014 | 783F1 |
| Autodesk Product Design Suite Ultimate 2014 | 781F1 |
| Autodesk Raytracing Cluster Module for Autodesk VRED 2014 | 890F1 |
| Autodesk Real-Time Ray Tracing Cluster 2014 | 692F1 |
| Autodesk Revit 2014 | 829F1 |
| Autodesk Revit Architecture 2014 | 240F1 |
| Autodesk Revit LT 2014 | 828F1 |
| Autodesk Revit MEP 2014 | 589F1 |
| Autodesk Revit Structure 2014 | 255F1 |
| Autodesk Robot Structural Analysis Professional 2014 | 547F1 |
| Autodesk Showcase 2014 | 262F1 |
| Autodesk Showcase Professional 2014 | 295F1 |
| Autodesk Simulation CFD 2014 | 809F1 |
| Autodesk Simulation CFD 2014 Advanced | 810F1 |
| Autodesk Simulation CFD 2014 Connection for NX | 815F1 |
| Autodesk Simulation CFD 2014 Connection for Parasolid | 824F1 |
| Autodesk Simulation CFD 2014 Connection for Pro/E | 822F1 |
| Autodesk Simulation CFD 2014 Design Study Environment | 812F1 |
| Autodesk Simulation CFD 2014 Motion | 811F1 |
| Autodesk Simulation DFM 2014 | 837F1 |
| Autodesk Simulation Mechanical 2014 | 669F1 |
| Autodesk Simulation Moldflow Adviser Premium 2014 | 571F1 |
| Autodesk Simulation Moldflow Adviser Standard 2014 | 570F1 |
| Autodesk Simulation Moldflow Adviser Ultimate 2014 | 572F1 |
| Autodesk Simulation Moldflow Insight Premium 2014 | 574F1 |
| Autodesk Simulation Moldflow Insight Standard 2014 | 573F1 |
| Autodesk Simulation Moldflow Insight Ultimate 2014 | 575F1 |
| Autodesk Simulation Moldflow Synergy 2014 | 579F1 |
| Autodesk SketchBook Designer 2014 | 741F1 |
| Autodesk SketchBook Pro for Enterprise 2014 | 871F1 |
| Autodesk Softimage 2014 | 590F1 |
| Autodesk Softimage Entertainment Creation Suite Standard 2014 | 662F1 |
| Autodesk Vault Collaboration 2014 | 549F1 |
| Autodesk Vault Collaboration AEC 2014 | 801F1 |
| Autodesk Vault Office 2014 | 555F1 |
| Autodesk Vault Professional 2014 | 569F1 |
| Autodesk Vault Workgroup 2014 | 559F1 |
| Autodesk VRED 2014 | 884F1 |
| Autodesk VRED Design 2014 | 885F1 |
| Autodesk VRED Presenter 2014 | 888F1 |
| Autodesk VRED Professional 2014 | 886F1 |
| Autodesk VRED Server 2014 | 887F1 |
| CADdoctor for Autodesk Simulation 2014 | 577F1 |
| mental ray Standalone 2014 | 718F1 |
| RealDWG 2014 | 151F1 |
| T1 Enterprise Multi-flex 2014 | 535F1 |
| T1 Enterprise Multi-flex Standard Bundle 2014 | 891F1 |