In the last few years, Autodesk has been working on developing Autodesk BIM 360 as the digital platform to support your entire construction or infrastructure projects. In addition, Autodesk has purchased a number of complementary technologies to more efficiently realise their vision of digitalising the construction world. For example, they purchased BuildingConnected as a tender platform, Assemble as a solution for estimating, work preparation and implementation and Plangrid, a solution that already exists which aims to digitalise the construction site. This ambition did not occur overnight. It was actually realised in a number of phases over the last few years:
Phase 0: In 2021, Autodesk acquired Vela Systems, whereby Autodesk BIM 360 was first sold with BIM 360 Field and BIM 360 Glue.
Phase 1: In this phase, the Autodesk Forge-built BIM 360 Next Gen platform was launched with the separately sold supplementary products Plangrid, BuildingConnected and Assemble.
Phase 2: In the second phase, the BIM 360 Next Gen platform was connected to the supplementary products to improve collaboration and interoperability.
Phase 3: In this phase, the Autodesk Construction Cloud was fully integrated and built on Autodesk Forge, where the best-in-class technology of the individual Construction Cloud products were merged and new functionality were translated into new unique products.
Two platforms, one environment.
Combining the best of Autodesk BIM 360 with the best of Plangrid in one Construction Cloud platform was done in such a way as to retain their workflows and reinforce each other. The new workflows make Autodesk Construction Cloud more than just the sum of its parts.
The Construction Cloud provides a single environment in which all project information is made accessible, activities are performed, and quality and progress are monitored. In addition, the Autodesk Docs environment, which is included as standard, is seamlessly integrated with the supplementary products Autodesk BIM Collaborate, Autodesk BIM Collaborate Pro, Autodesk Takeoff and Autodesk Build. These products can all be accessed from the same environment. This allows users to access all information and tools from a single environment. Project information is always displayed in a uniform way and it allows project teams to perform real-time analysis that yield project-transcending insights that mean nothing gets in the way of companies continuing to grow into analytics-driven organisations, which then positively impacts their efficiency and profit margins.
In other words: Autodesk Construction Cloud combines the best of all worlds in a single platform, thereby contributing still more to the digitisation and digitalisation of the AEC industry.
What does this mean for BIM 360 users?
Of course, the launch of new products raises the question of how they relate to the current product portfolio. In the first place, all existing technologies will continue to be developed and supported and thus still used. BIM 360 customers can continue to use the existing BIM 360 technologies, but will also be given access to the Autodesk Construction Cloud. Which solution is used can be determined depending on the project.
The BIM 360 Next Gen products have now largely been added to the Autodesk Construction Cloud. Autodesk BIM Collaborate Pro gives Construction Cloud users access to BIM 360 Design and Coordinate. This allows users of BIM 360 Design and Coordinate to benefit from all the additional functionalities of Autodesk Collaborate Pro while continuing to work in their BIM 360 projects as usual. Are you just using BIM 360 Coordinate? Then Autodesk BIM Collaborate is the right solution for you.
BIM 360 Build and Cost have been enriched with new functionalities from Autodesk Build. These BIM 360 products are also being renamed: Autodesk Build. This allows Build and Cost users to benefit from all the additional functionalities of the Autodesk Construction Cloud while still working in their BIM 360 projects.
BIM 360 Docs remains available in BIM 360 Docs. In addition, Autodesk Docs is now also available in the Construction Cloud. However, while existing BIM 360 Docs users cannot access the Unified Platform, Autodesk Docs users can use BIM 360 Docs. Unfortunately, Autodesk Docs is not available as a standalone product, but as part of the AEC Collection. Would you like to continue using BIM 360 Docs without requiring the Construction Cloud or AEC Collection? If so, we recommend you renew your Autodesk BIM 360 Docs licence now.
Autodesk Takeoff will be available from March 2021. This is a new product addition to the Construction Cloud. This product allows you to easily calculate quantities in 2D documents and 3D models.
In short, the Autodesk Construction Cloud enriches a number of the existing products, as indicated below. Please note that Construction Cloud data is saved in a different environment to BIM 360 data. I will tell more about this in my next blog.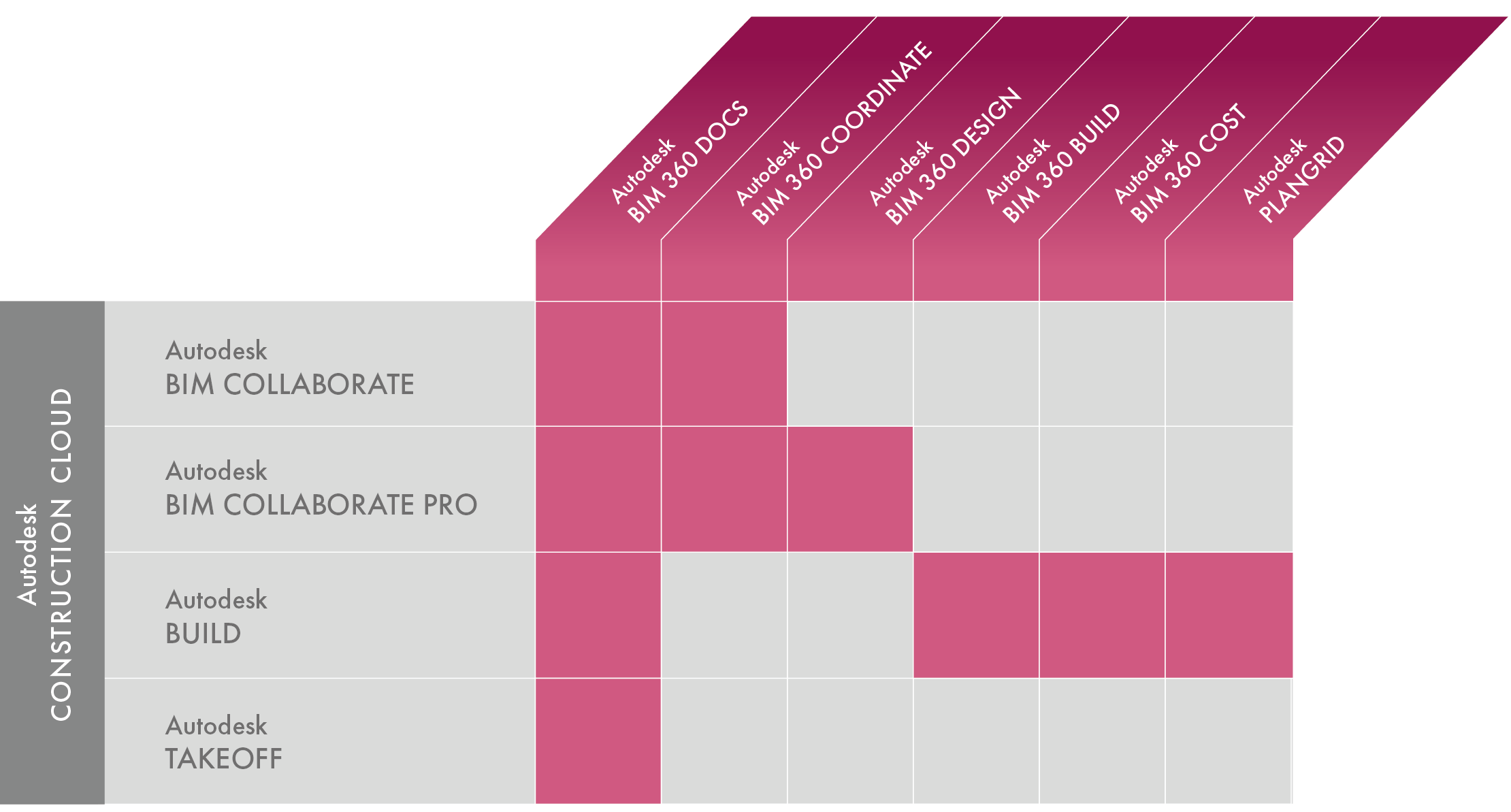 Are you looking for more information on the Autodesk Construction Cloud and the possible impact on your organisation? Or are you looking for concrete advice regarding which product best suits your projects? We would like to talk to you!