Product description Organice TaskForce
The document control solution for SharePoint Online
Cadac Organice TaskForce is a SharePoint Online app for easy and quick file sharing for companies that work on a project basis. Do you already use SharePoint Online and want to share documents with internal and external stakeholders in an easy, fast and structured way? Then use Cadac Organice TaskForce as SharePoint Online add-in. You can also give external users without access to your SharePoint Online environment access to your documents, without impact on your own document management system (DMS).
After installation and a low-threshold implementation of Cadac Organice TaskForce, you transform SharePoint Online into a document control solution, within the familiar user-interface of SharePoint Online.
The bigger the project, the more control you need. Organice TaskForce allows you to effortlessly manage and share project information and documents, both within and across company boundaries. Regardless of the diverse stakeholders, you easily plan tasks for all team members, customers, suppliers, and regulatory agencies.
Creating a transmittal.
Optimal task and transmittal management in SharePoint Online
Save time, work more efficiently and take control.
Share files via transmittals
Create tasks for recipients from transmittals
Receive and monitor feedback from internal and external stakeholders
Create placeholders as a basis for a structured enrichment of files and deliverables
Submittal functionality allows you to create tasks for stakeholders quickly and easily to deliver the requested files.
Use visual status monitoring of tasks on documents within SharePoint Online
Thanks to the notification engine, notification preferences can be set by each user
Thanks to the dashboard, you have immediate insight into the current status of all tasks.
You will receive free Cadac Support with your licence, where our experts will assist you with advice. You also have the possibility to submit your software questions 24/7.
The TaskForce dashboard.
Get professional advice on Document Control
What document control challenges does your organization face? Perhaps Cadac Organice TaskForce is the solution for you to share and manage your engineering data. Contact us and get professional advice on how to implement an optimal document control solution for SharePoint Online within your organization.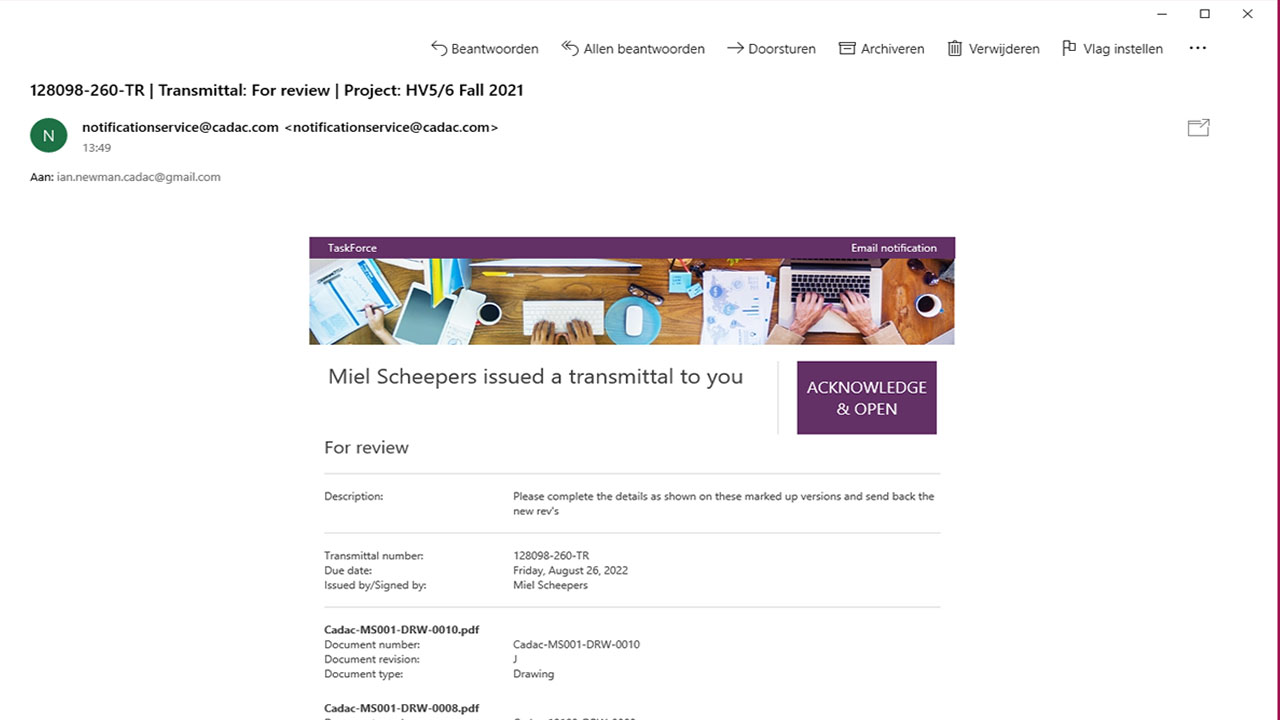 The recipient receives a task or transmittal by email.