Warsco Units
Warsco design their own sales configurator with Autodesk Inventor ETO (Engineering-To-Order)
Autodesk ETO automatically generates production drawings for me, including the correct symbols!
Since 1979, Warsco - based in Genk, Belgium - specialises in the sale, rental, transport, and placement of temporary and permanent prefab units such as housing and school buildings, and worksite huts. Production takes place at CBZ in Zutendaal.
Warsco can deliver up to six units per day and 1200 annually, fully to customers' specifications. To increase the efficiency and flexibility of the sales and production process, Warsco is switching to using a sales configurator, designed with Autodesk Inventor ETO.
Method
Mark Brouwers, ICT Engineer at CBZ and expert CAD software programmer, talks about his experiences: ''For over fifteen years, the sales department has been using CAD software and the ERP system BoA. This is a very simple drawing package Warsco uses to draw units that are all designed fully in line with the customer's wishes.
Next, I import this drawing - or to put it more accurately, this sketch - into AutoCAD to make a production drawing, including the correct dimensions and placement of objects such as windows, doors, toilets, and other fittings and furnishings. The final design is then discussed during a production meeting because BoA does not provide size certainty nor does it take into account wall thickness; things frequently do not align correctly.''
Then the process between sales and production will be fully digitised with all of the information available in one central location.

Mark Brouwers

ICT engineer - CBZ/Warsco
Sales Configurator
At Warsco, the disadvantage of the current working method is that data is not centralised into one model. In addition, BoA's limitations cause wasted time because the drawings have to be redraughted in AutoCAD, which opens more doors for production errors.
Brouwers explains: ''For example, changes made in BOA are often not passed on to CBZ. Because of this, we sought a solution in the form of a sales configurator that can also automatically generate a price quote and a production drawing.''
Opting for Autodesk Inventor ETO
After an initial selection round of suppliers, Warsco asked the two remaining parties to work out a case in three days. This would allow Warsco to make an informed choice on who could provide the best solution for their particular problem.
Solidworks sought a solution in the API, while Cadac Group's solution was Autodesk Inventor ETO (previously Autodesk Intent) combined with Inventor. ''With an API,'' says Brouwers, ''I would have had to develop and program the entire configurator, from A to Z. A highly time-consuming and therefore expensive task to say the least! In contrast, Autodesk Inventor ETO contains pre-defined commands that are focused on making configurators; this ends up making my job considerably easier. Because I had often purchased CAD software at Cadac Group CAD in the past, I knew that they would be a solid partner for this complex project. They also already had extensive experience in making Inventor configurators, which only confirmed our confidence.''
Collaboration with Cadac
In April 2010, we bought Autodesk Inventor ETO together with 30 consulting days. The knowledge and experience of Leon Campsteijn, Operations Manager at Cadac Group NV, was highly instrumental to the success of this project.
As well as providing consulting services, together with Autodesk, Cadac Group arranged an intensive week-long training session which was led by an American specialising in sales and product configurators.
In just seconds, Inventor ETO uses these data to generate a 3D model in Inventor
Although it was a big job, the sales configurator is quite easy for Warsco to use. As Brouwers points out: ''Now when a new project is created, choices can be made, including the number of units, dimensions, single or double wall insulation, and ceiling and floor insulation.
In just seconds, Inventor ETO uses these data to generate a 3D model in Inventor, after which various options are available for each unit or component, such as floors, walls, and objects. Objects such as a toilet, window, door, air conditioning, etc. are all in one library and can be easily placed, without any knowledge of drawing in Autodesk Inventor. This library is very extensive with components drawn in Inventor, including the right parameters and Inventor families.''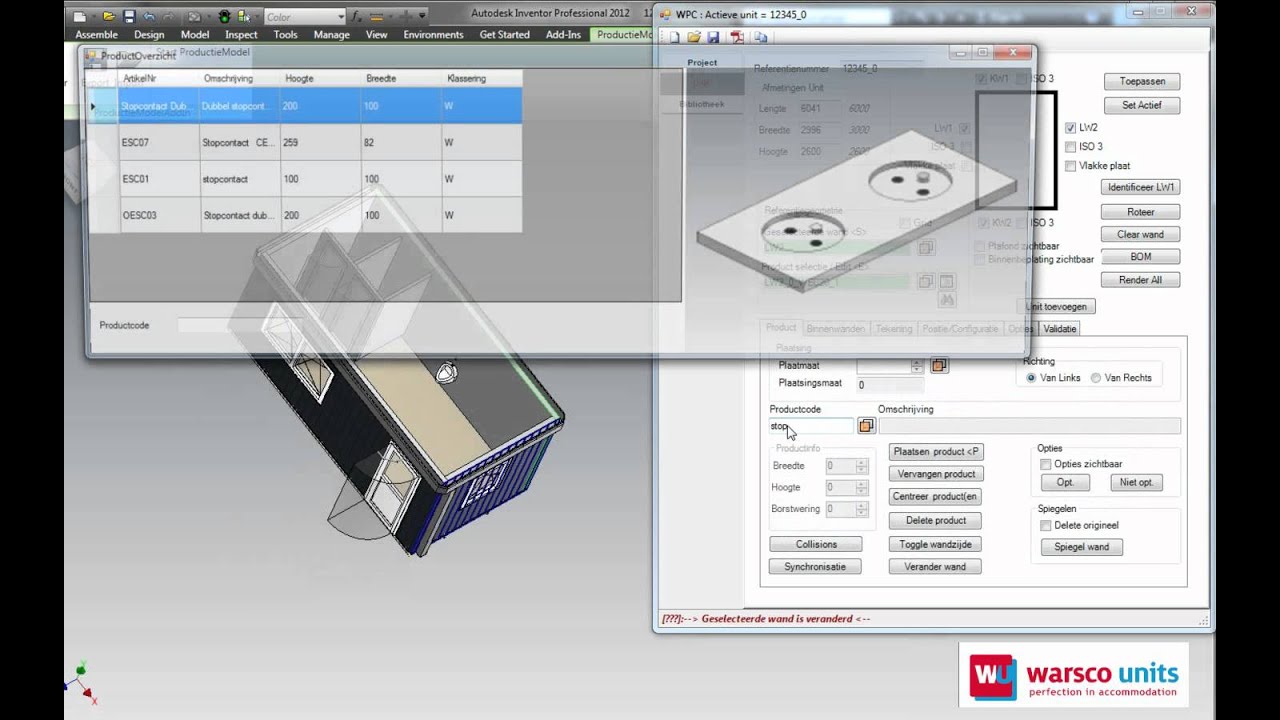 A strong lead over the competition
The model is parametric because of the programmed intelligence in Inventor ETO. For example, if a door is inserted into an adjoining unit, Inventor ETO immediately arranges for a hole with the right specifications to be placed there. Then the door is widened by adjusting the parameters in the configurator, and the hole is automatically updated again. ''Because we use standard components for the units, such as the vertical panelling (see drawing on the front page), all components are automatically positioned at the right distances. That saves us quite a lot of work.''
The people at Cadac Group are also very enthusiastic about the work Mark Brouwers has done for Warsco. ''We don't have any clients yet in the Benelux region who use configurators at this level,'' explains Robby Doumen, Manufacturing Sales Manager at Cadac Group in Belgium. ''What Warsco has been able to achieve with Autodesk Inventor ETO is admirable. With this tool, Warsco has got a strong lead over the competition.''
Autodesk Inventor ETO provides several advantages
The time savings the sales configurator provides are primarily gained after the sales phase. ''Finally,'' says Brouwers, ''I barely have to make any production drawings anymore because Inventor ETO automatically generates them. Even objects are automatically transformed into symbols for the production drawings!
Errors are dramatically reduced during the production process because changes to the production drawings are made on the fly in the configurator. With Autodesk Inventor's integration capacity, every drawing is strikingly visualised. Customers really like this because they can immediately see what the unit will look like, complete with layout and design.''
Implementation in three phases
Warsco is currently working on the implementation of the sales configurator in the sales department. The decision was made to execute the implementation over three phases. ''The sales department will now create prefabricated units, aided by the user-friendly interface in Autodesk Inventor. So drawing is no longer necessary! Inventor ETO exports parts lists to the ERP system, after which an offer is automatically generated. The drawing still has to be manually uploaded in AutoCAD so that I can use it to make a production drawing. During the second phase, the latter process will be fully automated. Then the process between sales and production will be fully digitised with all of the information available in one central location.
The third phase - but this one will take some time coming - is a web application of the sales configurator. This will allow customers to create units directly on our website that are fully to their liking.''