The world around us is changing quickly. Not just because of the coronavirus crisis, but also because of people's relentless drive to want to do things more efficiently and simply. The same driving force underpins the development of the Autodesk Construction Cloud. While my colleague, Bob van Zeist, examined the relationships between the existing BIM 360 Next Gen products and the new Construction Cloud products in more depth last week, this week I'm focusing on Autodesk Docs and how that product relates to BIM 360 Docs.
Autodesk Docs is part of the Autodesk Construction Cloud platform and the Common Data Environment (CDE) of each project. In other words, a central document management solution that functions as a resource for all project partners throughout each project's entire lifecycle.
Is Autodesk Docs the same as the well-known BIM 360 Docs? No. The Construction Cloud platform is structured differently from the BIM 360 platform. Furthermore, the Construction Cloud has a separate data environment, unlike the BIM 360 Next Gen platform. This means existing BIM 360 Docs projects are kept separately from the new platform. BIM 360 Docs does not therefore give you access to new Construction Cloud projects.
A major improvement on BIM 360 Docs is the elimination of so-called 'workflow gaps'. In the example below, you will see that the construction team is not an integral part of the project lifecycle with BIM 360 Docs. The result: danger always lurks in the shadows when transferring data between the design and construction teams. There is in fact a real risk of misinterpretation, as the data is not centrally managed.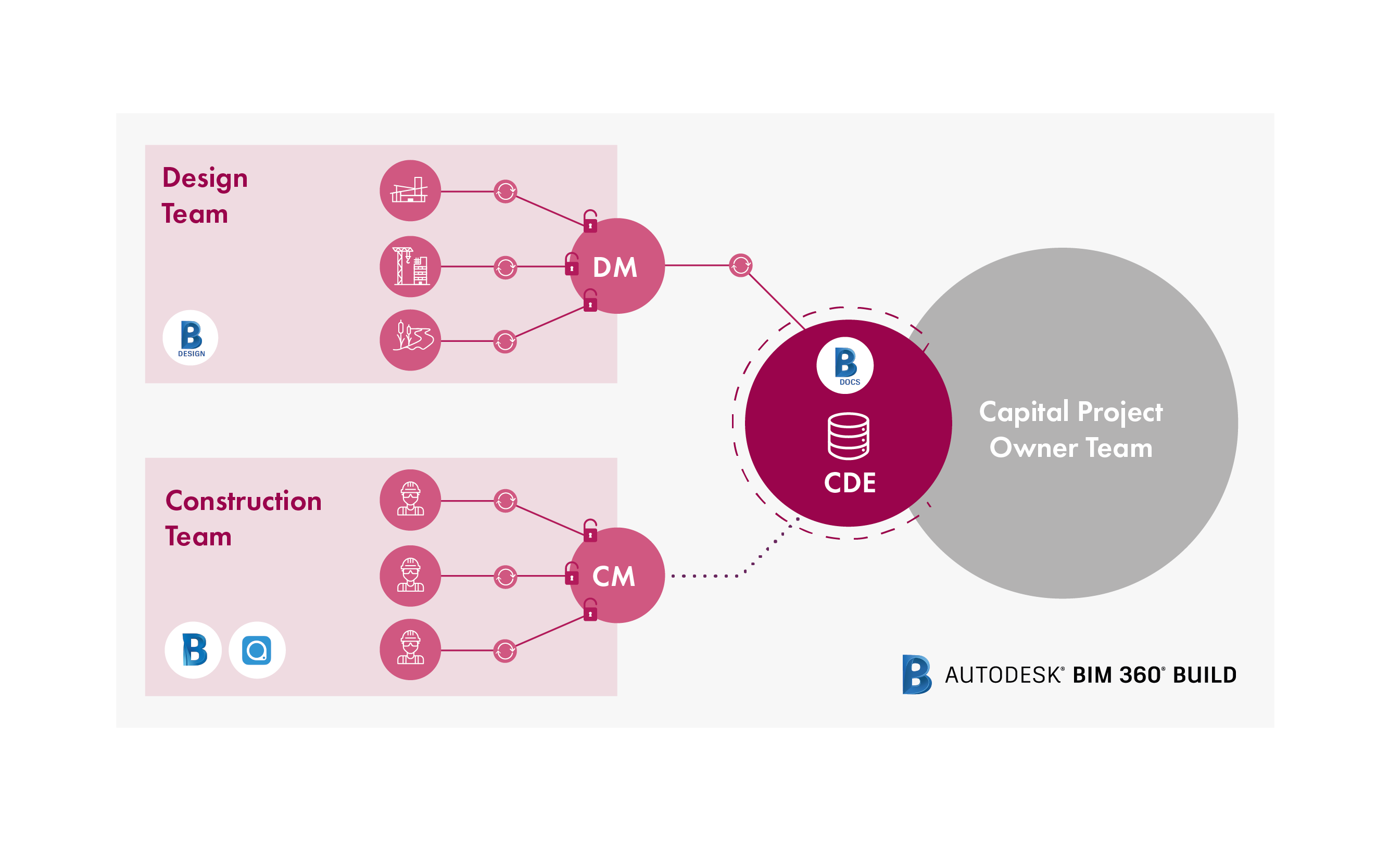 Autodesk Docs is "the next step" for collaboration between different project partners. The software closes the workflow gaps creating an integrated ecosystem within which all the project participants are connected and fully integrated into the project lifecycle, as shown in the following example: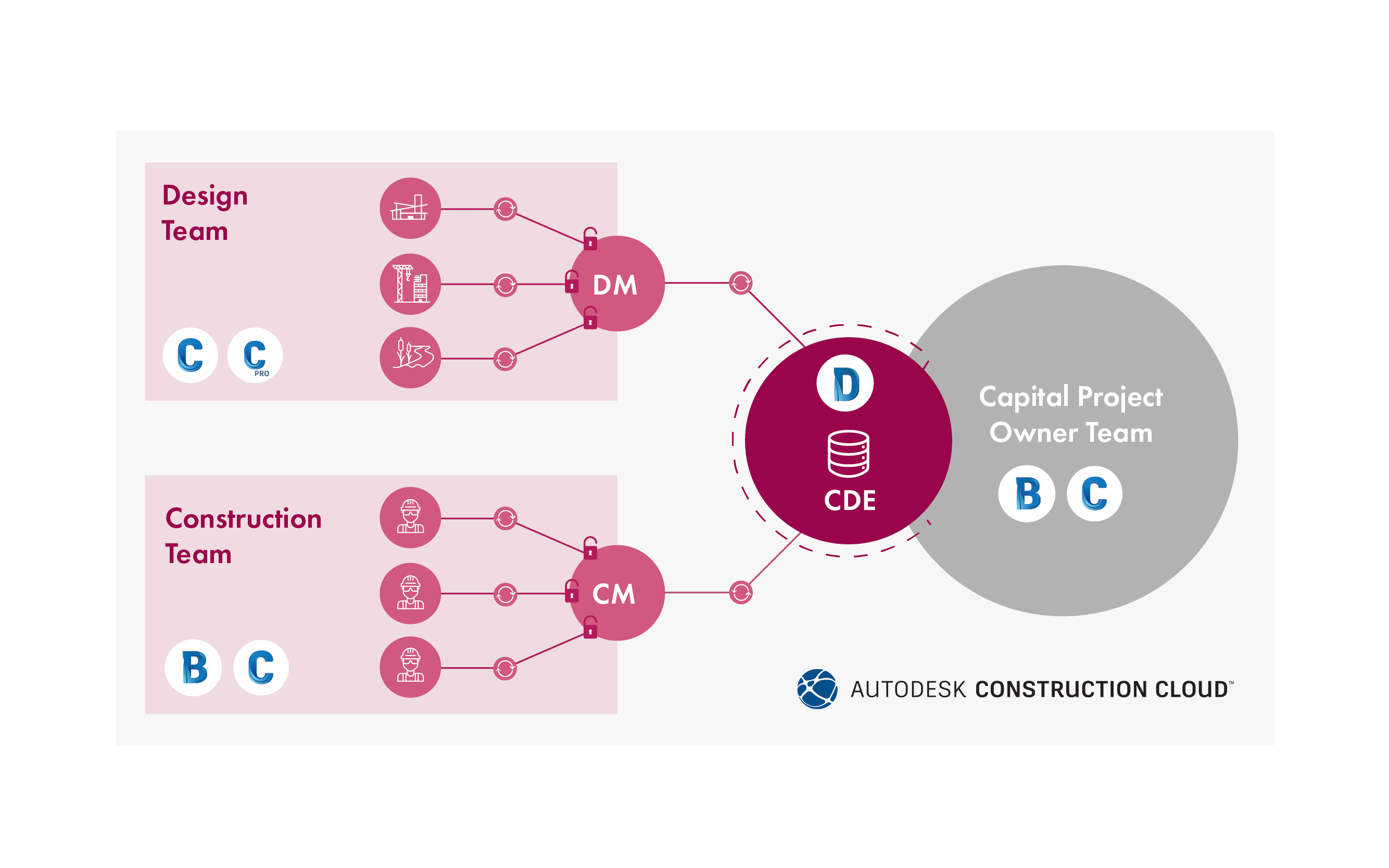 Do you want to use Autodesk Docs together with other BIM 360 products? No problem. Autodesk Docs offers support for both BIM 360 and Autodesk Construction Cloud projects. Another big advantage of Autodesk Docs is that it works on the principle of 'BYOS: Bring Your Own Subscription'. This eliminates the need for you, as an owner of the Autodesk Docs environment, to provide additional licences to project partners. However, this is the case with BIM 360 Docs.
What else should you know about Autodesk Docs?
Unfortunately, it is not available as a standalone product, but it is available as part of AEC Collection, BIM Collaborate and BIM Collaborate Pro.
Autodesk Docs is at this time only available on the US server, but it will be made available on the EU server at a later date. The exact date has not yet been announced by Autodesk.
As with BIM 360 Docs, Autodesk Docs also offers unlimited Cloud Storage.
Autodesk Docs will be made ISO 19650 compliant later this year.
But, I can already hear you asking: "What should I do now? Autodesk is currently working on a migration solution to enable the transfer of your existing BIM 360 projects to the Autodesk Construction Cloud platform. My advice is to keep your existing projects on BIM 360 Docs and start your new projects on the Construction Cloud platform. The table below shows the most appropriate software solutions:
| | | |
| --- | --- | --- |
| | BIM 360 | Construction Cloud |
| Do you have an ongoing project that is already on BIM 360? | X | |
| Do you want to host data on the EU server? | | Coming soon |
| Do you want to comply with ISO 19650? | | Coming soon |
| Do you want access to Issues Management? | | Coming soon |
| Are you new to Design Collaboration or Document Management? | | X |
| Do you want to connect design data and building construction through a Unified Platform? | | X |
| Do you want BYOS (Bring Your Own Subscription) for Docs or Collaborate? | | X |
There is no need to worry about anything else, as there are no plans to discontinue BIM 360, and Autodesk will continue to provide access and support to its customers on existing projects. Would you like more information on the changes, implications and the most appropriate solution for your organisation? Please do not hesitate to contact me.