Product description BIM Collaborate Pro - 1000 User Pack (BIM 360 Design)
Do you want to buy Autodesk BIM Collaborate Pro 2021 - 1000 users at the sharpest price?
Then buy Autodesk BIM Collaborate Pro 2021 - 1000 users from Cadac Group. As an Autodesk Platinum Partner, we offer not only the best price but also the best service.
Take advantage of our best price by logging into My Cadac. If you find a lower price elsewhere, please send us the offer and we will make you a better one.
Create a buildable model through cooperation and coordination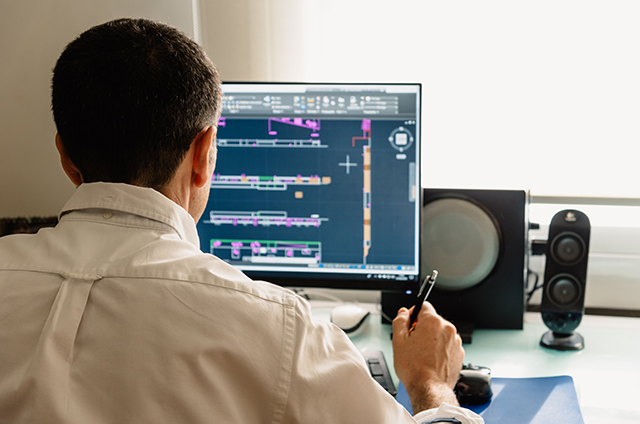 Optimise the design phase of your project with advanced BIM software Autodesk BIM Collaborate Pro 2021. This software allows you to better coordinate cooperation between various team members and teams during the design phase and ensure optimal model coordination. Many companies are still struggling to streamline cooperation and successfully complete model coordination. The reasons for this are manifold:
Inconsistent design data sharing;
Just one powerful user for clash detection and problem management;
Information silos caused by unconnected workflows;
Important information and decisions are discussed in meetings or e-mails but are not managed centrally.
Autodesk BIM Collaborate Pro 2021 brings teams from different projects together on one platform. The result is better communication, faster delivery and less work duplication. This is because Autodesk BIM Collaborate Pro 2021 provides tools that:
help to efficiently exchange design data;
foster cooperation;
visualise design changes;
detect errors early;
solve and manage problems;
implement correct version management;
facilitate better cooperation with Revit and Navisworks users;
enable better cooperation in models.
The focus of the tools mainly lies in improving design collaboration and model coordination to ensure that you can develop a buildable model on paper and prevent problems at the construction site.
Revit Cloud Worksharing
Real-time Revit cloud worksharing gives team members from different departments access to centralised Revit models in the cloud, anytime and anywhere. This means that employees no longer lose any time when uploading, synchronizing or forwarding files. Documents can also be found quickly, and team members no longer have to wait for their colleagues to forward files.
Collaboration for Civil 3D
Collaboration for Civil 3D means that you can collaborate on Autodesk Civil 3D files, data shortcuts, and xref files with project members from different teams, anytime and anywhere.
Collaboration for AutoCAD Plant 3D
Autodesk BIM Collaborate Pro 2021 also features an AutoCAD Plant 3D collaboration tool that allows you to securely share Plant 3D files with employees in different teams and companies. This tool allows you to save projects centrally, view changes in a web browser and stay compliant with standards and requirements.
Better model coordination with clash detection
Merging multi-disciplinary models is easy with Autodesk BIM Collaborate 2021. You can easily generate views of your merged model, create custom coordination environments and much more. Design conflicts are also easily identified with automated clash detection. This allows you to tackle problems as early as the design phase.
Issue management
Efficient issue management gives you more control over potential issues on the construction site. It allows you to easily register, assign and monitor design conflicts identified during clash detection.
Project insights
Autodesk BIM Collaborate Pro 2021 allows you to easily track your project's progress, changes, data and/or problems.
Document management
Autodesk Docs is always included in the Autodesk BIM Collaborate Pro 2021 licence. Autodesk Docs is the successor to BIM 360 Docs and is powerful document management software for the construction industry.
Choose the type of Autodesk BIM Construction Pro - 1000 users licence you want
At Cadac Group, you decide the duration of your Autodesk BIM Construction Pro - 1000 users licence. You can choose between free Autodesk Support and Cadac Advanced Support where our specialists are always available to help you with any questions about Autodesk BIM Collaborate Pro 2021.
If you have any questions about the software or licensing options, please feel free to contact us. Our service team will be happy to help you.
Autodesk BIM Collaborate Pro 2021 for your building project
We also sell Autodesk BIM Collaborate Pro packages for 1, 10, 25, 100 or 500 user(s).
The Autodesk Construction Cloud: the BIM Platform from Autodesk
Autodesk BIM Collaborate Pro 2021 - 1000 users is part of the Autodesk Construction Cloud. The Construction Cloud is the successor to the BIM 360 platform and contains various types of software to optimise your BIM process. Autodesk BIM Collaborate Pro 2021 features the best and updated tools of BIM 360 Design and Coordinate.