I want to know how a subscription licence works.
Do you have any questions about how a subscription licence works? We have tried to answer all your questions as clearly as possible below. If your question is not answered below or you have any further questions, please get in touch with us.
Confirmation
After making your purchase you will receive two emails from Autodesk. The first mail shows that the order has been received by Autodesk. This mail concerns only a confirmation of the order, not that the licence(s) is/are already available. The second mail of Autodesk concerns the mail in which announced that the licence is available in the account of the contract manager. 
Click on "Sign in to Autodesk Account"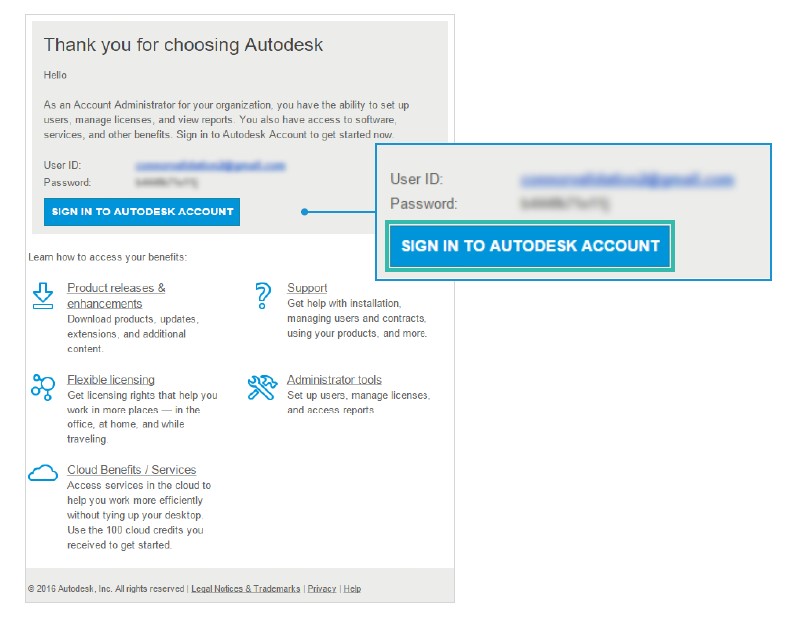 Logging in to your Autodesk Account
Sign in to your Autodesk account. To do this, use the data and the account that is also in the Autodesk mail that you received.
Fill in your email address and click on "Next" 
Fill in your password and click on "Sign in"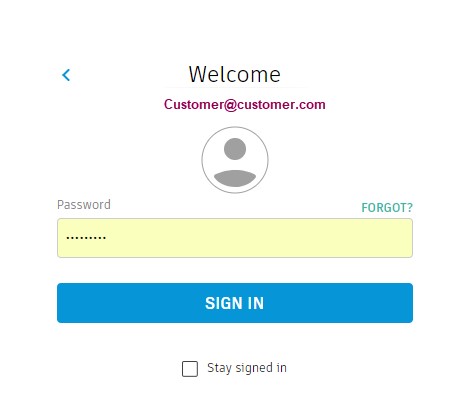 Review subscription, products and services
Have a look in your Autodesk account to see where everything is. At the top you will see 2 tabs: Profile & management. By default you will arrive at the "management" tab, here you will find all your Autodesk contracts/products and services.
Edit and update profile
At the top of your Autodesk account you will see 2 tabs (Profile & management).
Under the tab "profile" you can edit the following data.
My Profile: (name, telephone number, screen name, alternative email etc.)
Security Settings (change user name, email address, password, 2 step verification etc.)
Linked Accounts (Connections with Facebook, Google +, Twitter etc.)
Preferences (Language, communication, notifications)
Assigning a Software Coordinator (optional)
If desired, a Software Coordinator can be assigned. A software Coordinator can be assigned per contract or by serial number. Your best option is to contact Cadac via our servicedesk. Call +31 88 9322 333 or leave a message at https://www.cadac.store/en/service--contact/ You can adres which to which contract or serial number you want to assign a software coordinator.
Adding Users
In order to use the software, it needs to be assigned to users. These users need to be known to you or they can be created in the Autodesk account portal of the contract manager. Either wise the steps are the same.
Make an inventory of all the users that you want to assign which already have an Autodesk account. Collect these data from them: 
First and last name 
Email address
To add the users: 
Click on the "management" tab on the user symbol. 
Go to "+ Add" and fill in the required info in the next pop-up screen. 
Check the "I'd like to add access to the user(s) now" box en save via "Save & continue"
The user will receive an activation mail with the message that a licence is assigned to him/her.
Note. Each user needs a private Autodesk account, so that the licence also end up in his/her own account. Where it is visible to download and install.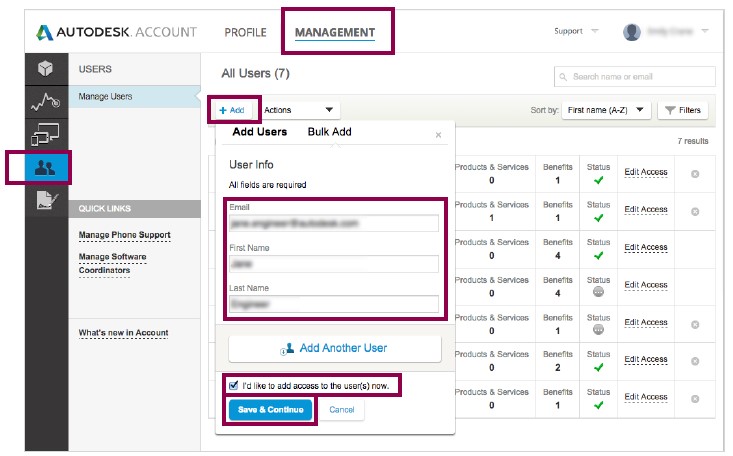 User access
To give users access to the products and Services that they are authorised to use, they need to be assigned to the right licence(s). When creating the users you checked the "I'd like to add access to the user(s) now" box, you will be taken to the following screen. If you want to give users acces afterwards you need to click on "Edit Acces" next to the respective user.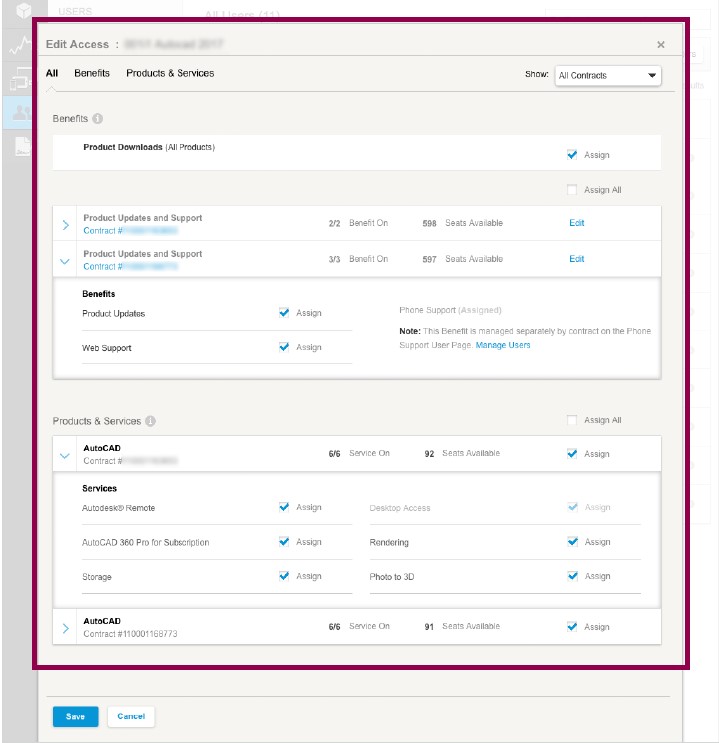 You can assign benefits and/or services per licence. By default, it is assigned to "Assign all".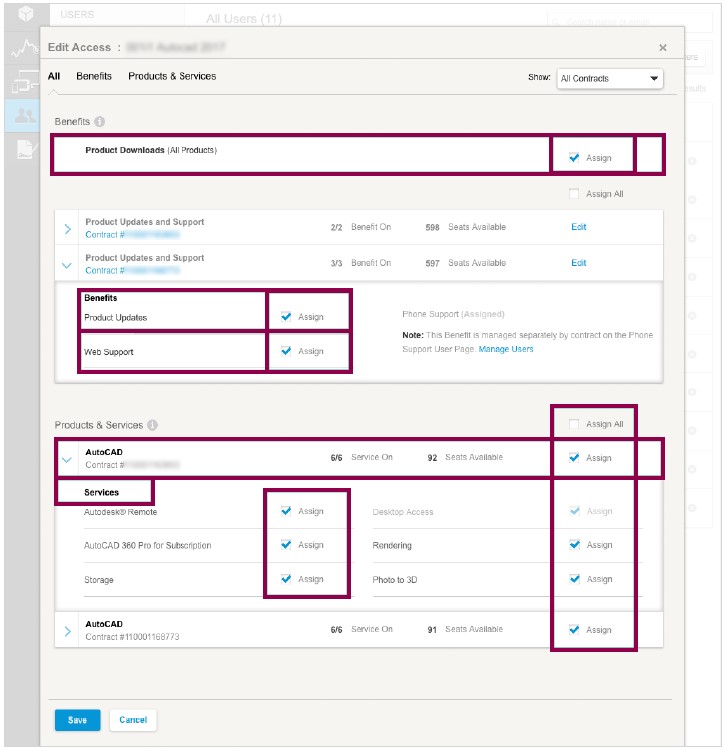 Note. Don't forget to save after assigning.