Autodesk BIM 360 Build
Autodesk software for efficient management of your construction project on the construction site
Build better with BIM 360 Build
BIM 360 Build is field management software for 2D and 3D environments that combines mobile technologies at the construction site with cloud-based collaboration and reporting. BIM 360 Build puts critical information into the hands of those in the field, helping to improve quality, safety, and commissioning for construction and capital projects of all types.
Purchase your BIM 360 Build licence at Cadac Group. As an Autodesk Platinum Partner, we offer the lowest price with the best services.
Don't spend your money on high licensing costs. Buy your BIM 360 Build subscription at Cadac Group and receive a personal discount. Log in or create an account and to discover your discount!
BIM 360 Build products: choose your number of users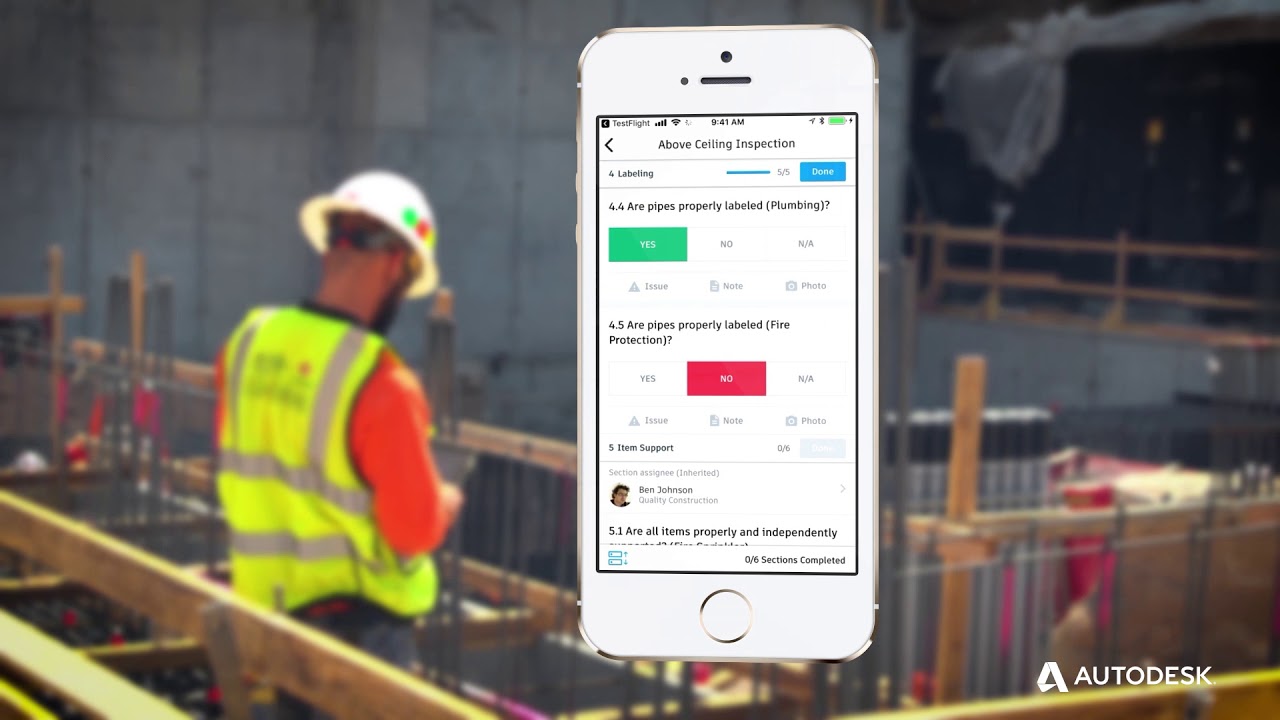 Manage and improve on-site work performance with BIM 360 Build
From now on, you can manage your construction project efficiently with Autodesk BIM 360 Build. BIM 360 Build is high-quality field management software, formerly known as BIM 360 Field. The software was created in order to improve quality and safety of building projects and contains a mobile app, a web app and a desktop app. With BIM 360 Build you will reduce risks and avoid failure costs.
Improve your project management with Autodesk BIM 360 Build. You will avoid rework with an enhanced quality control. With BIM 360 Build, you will have templates and checklists at your disposal. In addition, you will reduce the number of safety risks with streamlined inspections.
The right collaboration
BIM 360 Build intends an efficient collaboration. Thanks to cloud-based collaboration, the design and building processes are available for everyone. Especially the mobile app offers great advantages for team members on the site since they no longer need to bring paper plans. With BIM 360 Build your data is always up-to-date. Consequently, you and your team can work more efficiently which results in higher quality and lower failure costs.
Create and assign tasks, issues, RFIs and submittals to the right team member. Moreover, you can create working schedules for your team.
BIM 360 Build usable at multiple times
BIM 360 Build is not only useful during the construction phase, but also during the maintenance phase of your project. After finishing a project, the building often needs to be managed for another ten years. With BIM 360 Build, you can easily create maintenance checklists. Create QR-codes that contain manuals, warranty certificates or maintenance regulations and place them on a boiler, for example, so you can always find the required documents.
Do you collaborate with subcontractors and do you want them to work with BIM 360 Build, but you don't want them to have all access to your project data? No problem. You can decide what information you share with whom.
BIM 360 Build makes it easier
Analysing and reporting is easier with BIM 360 Build. Check your supplies and add information. Consult reports daily at your dashboard or draw up custom reports. BIM 360 Build consists of a 'performance diary'. This tool logs the daily activities: company, employees, working hours, tasks performed and even the weather. With this tool, you will have a better view on the progress of your project and you can identify issues in an early stage.
In conclusion: Autodesk BIM 360 Build improves efficiency, results and the decision-making process.
A BIM 360 Build licence that fits your needs
Enhance the quality of your project with BIM 360 Build. At Cadac, we value your wishes and needs. In our Cadac Store you can find the software that exactly fits your needs.
We offer different types of licences depending on number of users, duration and support. First of all, you can choose between a licence for a single user, 10 users, 25 users, 100 users, 500 users or 1000 users.
Secondly, you can add the support you wish to receive. Autodesk Support is included for free in every subscription. However, you can add Cadac Advanced Support in order to receive more in-depth guidance. If you need help with installing the software, you can also add installation support. If you require any further information, please don't hesitate to contact us.
More about BIM 360
BIM 360 is a collection of different products that enable you and your team to collaborate smoothly on construction projects. BIM 360 gives you the tools to accelerate turnaround time, save costs and reduce project risks.
Discover BIM 360
Autodesk BIM 360 Platform
Document Management
Document Management
Document Management
Digital
planning software


Design Collaboration
Model Coordination
Project Management
Insight
Insight
Field Management
Project Administration
Project Administration
Insight
Account Administration
Account Administration
Project Administration
Access Revit Cloud Worksharing
Access to BIM Coordinate (classic)
Account Administration
Access to Classic C4R
Access to Navisworks Manage & Point Layout
Access to BIM 360 Field (classic)
Access to BIM 360 Team
Budget Control
Change order management
Pay applications
Document Management
Insight
Project Administration
Account Administration
*BIM 360 Plan is not included in the BIM 360 platform.
Cadac. More than just software.
Cadac helps you embrace digitalisation and ensures that you are ready for the future. Whatever it brings.