Product description AutoCAD 2021
Buy AutoCAD 2021 at the lowest price
You find the most advantageous AutoCAD 2021 deal at Cadac Group. As Autodesk Platinum Partner we offer the lowest price and the best service.
Don't waste your budget on high licence costs. At Cadac, the best price is guaranteed. In the unlikely event you find a better offer elsewhere, don't hesitate to contact us so we can adjust our price. Meanwhile, discover your personal discount in My Cadac.
AutoCAD 2021: innovative 2D and 3D CAD software
Autodesk AutoCAD 2021 is innovative 2D and 3D CAD software that enables 2D drafting, 3D modelling and 3D visualization. The intuitive user interface, the flawless collaboration with other Autodesk software and the extensive possibilities for sharing files ensure a successful execution of each of your projects.
AutoCAD 2021 places industry specific capabilities for Architecture, Mechanical, Electrical, Map 3D, Plant 3D and Raster Design at your disposal. Consequently, each professional is able to design high-quality drawings and document data precisely.
Work anytime, anywhere with the included AutoCAD web and mobile app. Enjoy the flexibility of viewing, editing or creating designs on any device.
The AutoCAD 2021 version offers a wide range of new possibilities. Not only, did Autodesk introduce new tools, but they also improved the software performance. They implemented a new dark theme with contrast improvements, sharper icons and a blue interface in order to reduce eye strain. In addition, installation time dropped with 50% and users are able to save their files in only half a second. Finally, you can access any file on virtually any device with leading cloud storage providers.
The new tools of AutoCAD 2021 contribute to an even better design and document experience. The Purge Redesign tool improves your clean-up management. You can easily remove multiple unneeded objects. With the Blocks Palette tool you insert blocks efficiently from visual galleries. Another new tool is the Quick Measure tool that enables you to quickly display nearby measurements. Furthermore, Autodesk enhanced the DWG compare tool. Now you can easily compare revisions without leaving your window. Besides, you can highlight differences in the current drawing.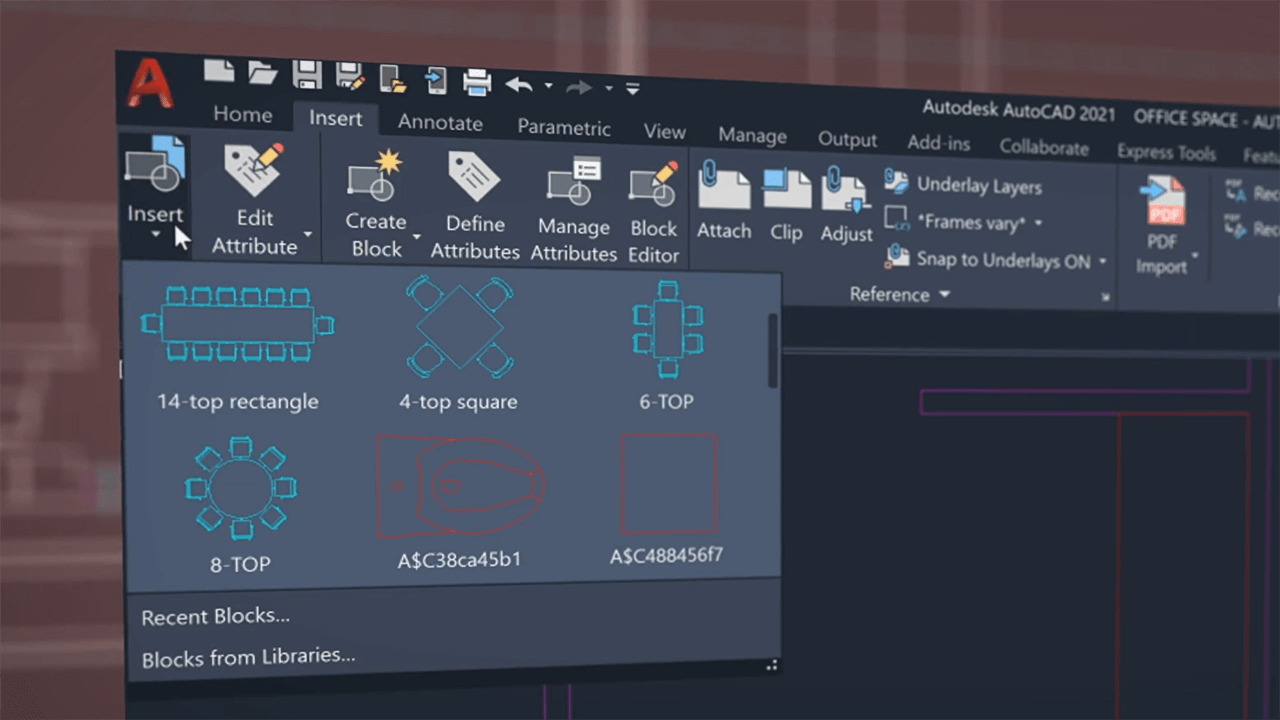 Find the AutoCAD 2021 licence that fits your needs
At Cadac Group you find the AutoCAD 2021 licence that fits your needs. Define the amount of users, the duration time and the support you wish to receive.
Autodesk Support is always freely included in your licence, but you can also add Cadac Advanced Support to your licence. This way, you can submit software questions 24/7 and our experts will give you advice in order for you to get the most out of your new software. In addition, you can add installation support to your subscription.
In case you have any questions regarding Autodesk AutoCAD 2021 or our service, don't hesitate to contact us through the contact form.