Cadac Organice Archiving
Use Cadac Organice Archiving to archive and handover your SharePoint content the safest way. If you utilize SharePoint as a document collaboration platform within your organization, then at some point you will need to archive your content in an accessible format. Either at the end of a project phase, for data handover, for long term archiving or for offline access to reduce storage cost. Archiving your environment with Cadac Organice Archiving will resolve a lot of backup issues and headaches.

Thanks to our tool you can easily export your SharePoint document libraries and lists to a local files and folder structure for long term archiving and for information handover processes to users that don't have SharePoint. Archived content remains searchable for SharePoint search, and is easy to share with external participants who are not connected to your SharePoint environment.

Save storage costs and keep data accessible
Easy to install and configure with an intuitive web-interface
Benefits of the SharePoint Archiving Solution
User Friendly. Easy to implement and easy to use archiving software for ad hoc and long term archives.
Scheduled Archiving. Run archiving out of office hours to minimize the impact on your SharePoint environment.
Save storage costs and keep data accessible. Reduce cost by reducing your online SharePoint content. Use file shares on cheap storage to securely archive your content.
Standard Folder Structure Archive. Access archived data with a standard file browser. Navigating through your archive does not require additional software.
Fully Accessible metadata and content list. Import the archive content to 3rd party solutions easily, because metadata is stored in a separate file for each document and the archive includes a comprehensive list of all files.
Zero footprint. Requires no archive software or license required for the recipients.
Create handover packages
Project related information needs to be archived for compliance reasons or handed over to your customer at some point in time. Instead of exporting SharePoint content manually, automate the process using Cadac Organice Archiving.
It has never been so easy to provide a handover package for tender or contract documentation to your clients, vendors or suppliers in standard file format, including all metadata associated to each document. The solution includes multiple filtering and query options allowing you to isolate and archive handover content separated from other documentation.
Reliable long term archive
Have you ever restored a SharePoint 2003 backup or successfully restored a 10 year old FoxPro database? Long term archiving can only be successful if you use industry standards such as the file system and plain text XML. For documents stored in SharePoint, the latest version of a document is downloaded to the archive file structure together with an XML document containing all meta-data fields for this document.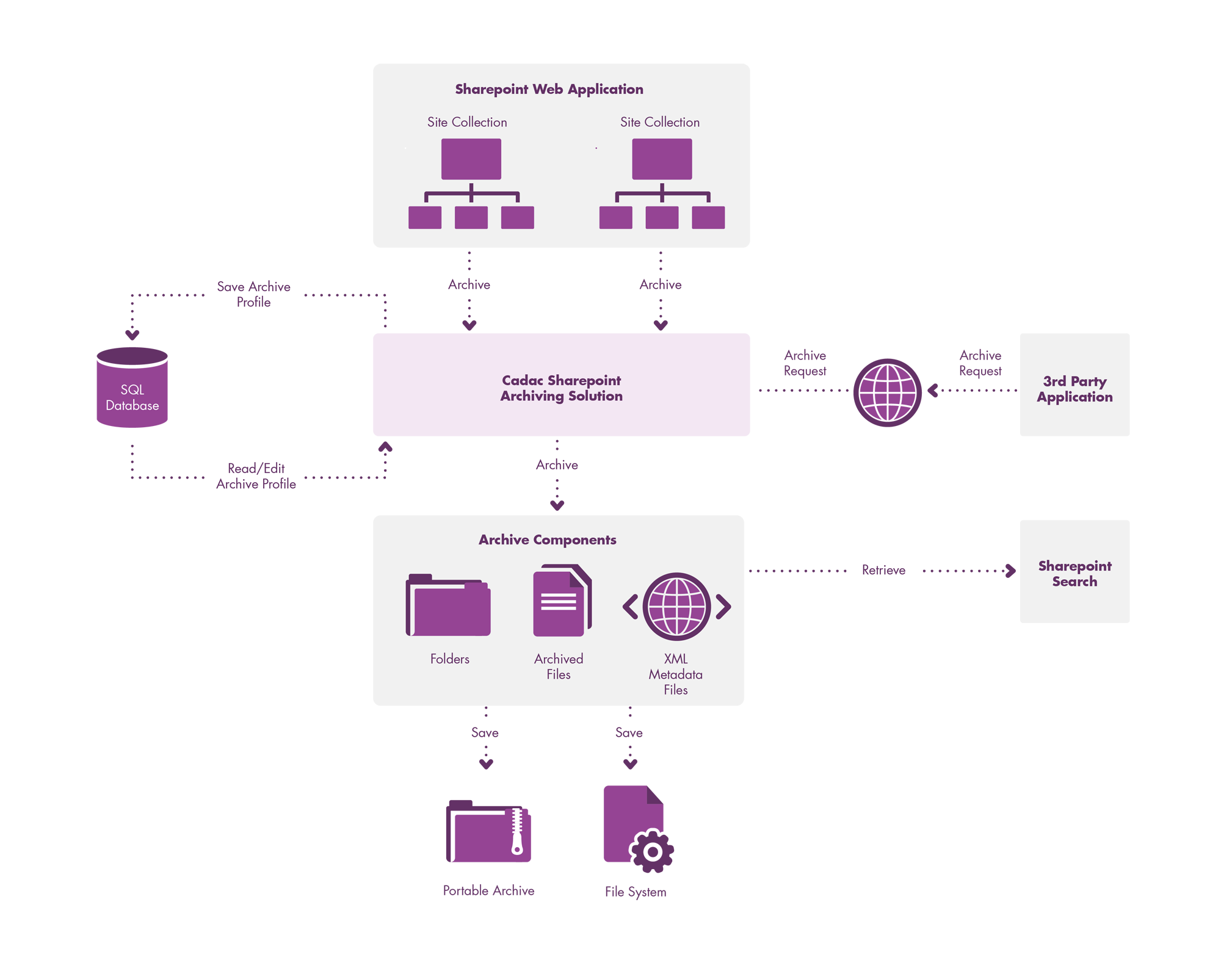 A Backup plan is not an Archiving strategy
A lot of people using SharePoint as their Enterprise Content Management System have a backup and restore strategy in place but don't have a long term archiving strategy or an easy way to handover information to their customers or partners after project closure.
Backing up data from SharePoint obviously serves a different purpose than archiving data. A backup allows administrators to restore data in case of an emergency or loss. An archive makes data (or rather information) accessible to the owner of that data over a long period of time (several decades) and should be as technology agnostic as possible to make sure that the information can be made available regardless of the technology used to create it.
2 success factors for keeping your content accessible
We all know that technology moves fast and that the odds of keeping content useful and accessible for an extended period of time will improve significantly depending on 2 important factors:
Choose a storage system that can survive decades.
Choose a data format that can survive decades.
Cadac Organice Archiving uses a simple files and folder structure that equals the site structure in SharePoint to archive content and can easily be taken offline to long-term storage systems such as an Blu-Ray disk. List items and document properties are archived in an XML document that could be used to import the data into other Enterprise Content Management systems.
Save to traditional storage device
The simplicity of the archive together with the fact that all of the file metadata is made available in a flat text file, makes it extremely easy to exchange the archive file with traditional file storage devices. Save your archive to USB-sticks, external hard drives or even DVD's, and provide recipients with easy to use data in a standard folder structure. No additional archiving software is required to gain access to documents or associated metadata.
Scheduled archiving based on profiles
The application runs web bases as a windows service and archiving operation can easily be scheduled. Administrators can define profiles in which the content of the archive can be specified per site collection.
For on premise SharePoint farms, SharePoint Search can be extended to include Cadac Organice Archives to discover both online as well as archived content in a seamless way providing the same user experience.
Cadac Organice Archiving is part of the Cadac Organice Suite
Here at Cadac Group, we are proud of the development of the Cadac Organice Suite. This engineering collaboration solution makes collaborating on multidisciplinary projects easier than ever. We applied more than 30 years of experience to develop the Cadac Organice Suite, which is based on Microsoft SharePoint and Autodesk Vault and provides the ideal basis for managing and sharing digital engineering data and documents – on premise, in the cloud, or as a hybrid solution.
Personal explanation of the Cadac Organice Archiving?
Together we look for the best solution.
Call +31 88 322 33